Celebrate the Holidays at Garvan Woodland Gardens!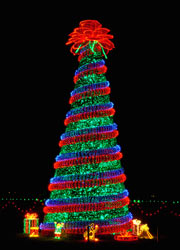 An annual tradition for many is to enjoy the Holiday Lights display at Garvan Woodland Gardens in Hot Springs. This festive event, which takes place from the end of November through the end of December, is open nightly. With over 4 million lights it holds title as one of the state's most decked out outdoor holiday lights displays. There are also various holiday concerts and special events that take place at the Gardens throughout the season. Of note, dogs are not allowed in the Gardens during Holiday Lights.
A neat highlight of the Gardens is the Fairy Village. The whimsical tiny village is made from objects and plants found from the Gardens' 210-acre peninsula including tree stumps, twigs, stone, lichen, and ferns! While here you can check out the multiple fairy structures that are part of the village like a tooth fairy house, a mini lighthouse, and even a tiny version of Bathhouse Row.
Holiday Lights is open through December 31 and is closed on Christmas Day. Garvan Woodland Gardens is located at 550 Akridge Road. For more details and to check out their event calendar, which gives details on concerts and special events, visit garvangardens.org.