Celebrating Peaches and Grapes
The Arkansas River Valley region is ripe with festivals that focus on food. In July, you can catch both the Johnson County Peach Festival and the Altus Grape Festival.
Johnson County Peach Festival
The Peach Festival in Clarksville is recently celebrated its 75th year. It takes place each July on the courthouse square and includes peach-themed eclectic foods and handmade arts and crafts. There are scavenger hunts, a 4-mile run, talent contests, live bands, diaper derbies, greased pig chases, terrapin and bull frog races, a special Kids' Zone, parade, and of course peach cobbler, jam and jelly bake-offs, peach seed spittin' contest, and a peach pie eating contest.
Admission is free. For more information, contact Travis Stephens at 479-754-2340, email [email protected], or visit the website https://sites.google.com/site/johnsoncountypeachfestival/.
Altus Grape Festival
Celebrated for more than 31 years, the Grape Festival takes place each July in Altus. Specifically, you can enjoy activities in the Altus City Park and at four area wineries. Enjoy a public grape stomping, wine tasting, arts and crafts booths, music, amateur winemaking competition, food, and fun. Admission is free.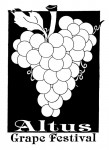 For more information, contact the Altus Chamber of Commerce at 479-468-4684 or visit www.altusgrapefest.com.