Central Ozarks Farmers & Artisans Market
The Central Ozarks Farmers & Artisans Market on the downtown Harrison square starts its regular market hours this week. It will be open on Tuesdays and Saturdays from 6 a.m. to noon, and Thursdays from 4 p.m. to 7 p.m.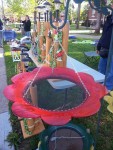 As the season progresses and days grow warmer, more and more vendors will fill the market. But, plenty of them will be there in these spring weeks with early season crops, hand-crafted items, canned goods and fresh baked goods. The market has all locally grown or produced items.
Not only is the market a great place to buy produce and artisan goods, it's also a great place to socialize and relax.
You can also find outstanding Farmer's Markets in Fayetteville, Springdale, Bentonville, Siloam Springs and Eureka Springs and numerous other cities and towns throughout the state.