Champion Trees of Arkansas Showcased at Ozark Bathhouse Cultural Center
Tricia Horn at Hot Springs National Park has sent word of an upcoming exhibit and reception at the Hot Springs National Park Cultural Center. The Cultural Center is located in the historic 1922 Ozark Bathhouse, which is part of Bathhouse Row, a National Historic Landmark.  The bathhouse reopened last year as a cultural center and home of Friends of Hot Springs National Park.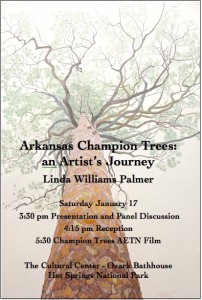 The park will host a panel discussion on the Champion Trees of Arkansas followed by a showing of the AETN documentary film Champion Trees at the Ozark Bathhouse Saturday, January 17. The exhibit features color pencil drawings and photographs by Hot Springs artist Linda Palmer who has chronicled trees designated as "Champions" by the Arkansas Forestry Commission.
Palmer, who has an art studio at 800 Central Avenue in Hot Springs, traveled around 10,000 miles over five years to locate and document these mammoths that have been recognized by the Arkansas Forestry Commission as the largest of each species. For a complete list of the Arkansas State Champion Trees and for more information about the program, visit forestry.arkansas.gov.
As to the schedule, from 3 to 3:30 there will be a public viewing of the artwork at the Cultural Center. From 3:30 to 4:30  will be a panel discussion featuring artist Linda Palmer, Matthew Voskamp of the  Cultural Center, and Carole Adornetto, AETN Director of Production. From 4:15 to 5:30 is a reception hosted by the Friends of Hot Springs National Park. And from 5:30 to 6:30 will be the showing of the documentary.