Cherokee Village Celebrates 60 Years
How do you celebrate a Diamond Jubilee? Cherokee Village does it with a and three days of activities to show off its resort and retirement community.
Cherokee Village was Arkansas's first planned recreational community, founded by developer John Cooper in 1954 on the banks of the South Fork River. Today, it is a 15,000-acre resort destination that is home to about 4,700 full-time residents and more than 15,000 property owners.
The community will celebrate 60 years with an anniversary and reunion party on June 12-14. Activities include a parade, live music, boat tours, kids' activities, teen mixers, golf tournaments, a street dance, campfires, a wine and beer garden, food vendors, an art show, tour of homes, and more.
On Saturday, June 13, the parade includes a procession of flags beginning with the American Flag followed by flags from every state in the nation, 20 countries, every military branch, the MIA flag and the four recognized Cherokee Nation tribes, all representative of the diverse population of property owners in Cherokee Village. Take chairs and blankets to watch from street side.
Following the parade is "A Diamond in the Ozarks Treasure Hunt" from noon to 6 p.m. designed to give participants entertainment and adventure as well as a chance at winning a diamond valued at $5,000. To participate, pick up a treasure hunt map and entry form at the event registration booth or other participating outlets. You then have six hours to explore Cherokee Village in one of five different treasure hunts that fit various lifestyles. For example, the Family Fun Hunt includes swimming at the beach. The Historical Cherokee Village Hunt highlights historical and cultural sites. The other hunt themes are: Geocache, Natural, and Free-Style.
At each stop on your hunt, you must get your entry form stamped by staff at that location after you take time to enjoy, see, and hear about that locale. When your form is completed, you turn it in at the registration and information booth located in Celebration Central. You must be present to win. The winning entry will be drawn at about 8 p.m. during a "Rewind the 50s Sock Hop Dance." Feel free to bring a 50s costume and show off your dance moves.
Cherokee Village holds an anniversary and reunion party every 10 years. Just what are they celebrating? A picturesque location in the natural beauty of the Ozarks, two private 18-hole golf courses, six swimming pools, a private beach, tennis courts, recreation centers, a fitness center, a senior center, horseshoe pits, nature trails, RV park, and lakes for boating and fishing. Additionally, the resort/retirement community has more than 125 clubs and organizations, excellent schools, low taxes, and enjoys four distinct seasons. And, if that's not enough, a river runs through it.
Cutting through the lush land and hardwood forests of Cherokee Village is the South Fork River, which flows into the well-known Spring River. In the region, both rivers are popular for floating, and fishing for trout and walleye. Serving as the headwaters for the Spring River is Mammoth Spring, flowing at more than nine million gallons of water per hour. This 58-degree water provides plenty of fresh water throughout the year. The river is crystal-clear, with long pools and whitewater falls.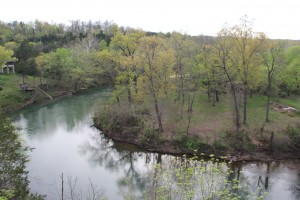 At Mammoth Spring is Mammoth Spring State Park, offering exhibits, picnic sites, a trail, ball field, old depot, and children's playground as well as a view of the spring and 10-acre lake.
Visitors to this vacation destination can stay in a cottage, timeshare, home, condo, and hillside, golf course or lakeside rentals. The nearby town of Hardy has a unique downtown with lots of quaint shops.
Details and rules for the Treasure Hunt and the complete schedule of events for the Diamond Jubilee can be found at www.DiscoverCherokeeVillage.com.