'Coca-Cola: An American Original' Exhibit Now Open
The Clinton Presidential Library & Museum celebrates the art and history of the Coca-Cola bottle during its 100-year anniversary with the temporary exhibit, "Coca-Cola: An American Original," now open. Divided into two sections, the exhibit occupies the Garden View room, located on the first floor, and the Temporary Gallery, located on the third floor.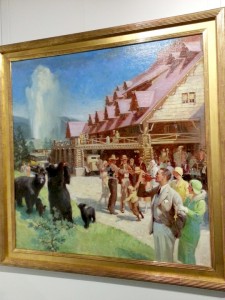 The display focuses on the images and advertising campaigns that have helped define the Coca-Cola brand. Illustrations include six original paintings by Norman Rockwell and the first Coca-Cola Santa painted by Fred Mizen, which appeared in The Saturday Evening Post in December 1930, as well as nine original Haddon Sundblom illustrations.
The exhibit also features a 13-bottle chronology, including an original glass bottle produced in 1902, a replica of the prototype contour bottle created by the Root Glass Company in 1915 and a prototype of the aluminum bottle that debuted in 2008. Pop art by Andy Warhol (including videos, photographs, prints, and other original works) and folk art by Howard Finster, who incorporated the Coca-Cola bottle into dozens of his pieces, is also showcased. Another portion of the exhibit is dedicated to American presidents and their connection to the global brand.
Other displays include a full-size antique Coca-Cola delivery truck and an art installation comprised of 750 3D-printed, ribbon-shaped interpretations of the bottle's classic shape.
"Coca-Cola: An American Original" closes on Feb. 15, 2016.
The Clinton Presidential Library & Museum is located at 1200 East President Clinton Avenue in Little Rock's River Market District. Admission is $7 for adults, with reduced rates for senior citizens, students and military. The museum is open Monday through Saturday, 9 a.m. to 5 p.m., and Sunday 1 to 5 p.m. The museum is closed Thanksgiving, Christmas and New Year's Days.