Color Dash: Fort Smith is May 26
Who wants to get colored like a bag of Skittles? Say what?
Yep, grab your family and friends and join in the fun of a Color Dash on Monday, May 26 in Fort Smith. By participating in this fun 5K run/walk, you can help raise money for charity.
It's a fun-filled experience for walkers, runners, and people of all ages. The dash is not timed – it's more about sharing memories and laughing, than it is about competing. As participants run, walk (or even crawl) the course, the Dasher-Splasher volunteers will splash them with special colorful dust. Results – a white t-shirted community of do-gooders, turned into a rainbow of colorful faces.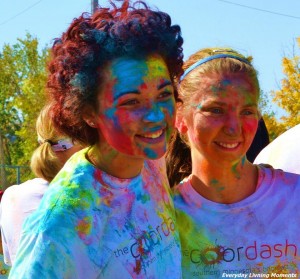 All proceeds from the Color Dash: Fort Smith will go to the AR/OK Regional Education & Promotion Association, a scholarship fund for high school seniors that are pursuing a career and education in agriculture.
The Color Dash is a Minnesota-based organization whose mission is to raise local money for a local cause. The Dash started as a fundraiser for a suicide awareness & prevention film, and has grown in its first year to over 30+ dashes, benefitting abuse centers, youth athletic complexes, orphanage planting, animal rescue shelters, and many more.
So get your family and friends together, or Dash on your own! Either way, it's bound to be the best 5K of your life. There will also be plenty of music to enjoy while you help a great cause. The event is offered in partnership with Fort Smith Western Heritage Month to "Relive the Heritage, Restore the Pride!"
Register at: www.theColorDash5k.com.