Come for the falafel, stay for the philanthropy
"We've totally redefined our lamb booth for 2016," says Jamie Groat, a parishioner of Little Rock's Annunciation Greek Orthodox Church, home to the International Greek Food Festival, which takes place May 20-22 at the church. This year, the fest's 32nd, a lamb burger and lamb shank dinner will heat up the lamb booth; Greek fries and loukomathes—basically, Greek donut holes—are two more additions to the menu, which also includes everything from familiar eats like hummus and gyros to more obscure delicacies like loukanikos (a type of sausage flavored with orange and fennel) and tsoutzoukakia (meatballs in tomato wine sauce).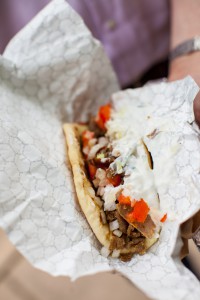 "It's crazy to think about how much the event has grown from when it first started as a means to raise funds for a new church building," says Groat. Back then it was just a day. Now it spans three days, during which as many as 40,000 people come to enjoy more than 30 different food items, as well as cultural entertainment such as music and dancing, kids activities and the Old World Market, where people can buy gifts, books, artwork, jewelry, collectibles and more from all over the world. 
But let's face it—it's all about the food. Which is no surprise, given that everything is prepared in the church kitchen by parishioners from family recipes, some handed down through generations. And the fest provides multiple ways to enjoy it, such as a grocery for picking up ingredients to make favorite dishes at home, frozen dinners and boxed pastries to go, and a drive-through line with an abbreviated menu that can also be delivered through a partnership with Chef Shuttle. "We're supporting Ditch the Keys Week, too," says Groat, "and we'll have bike racks for people participating in that. That's a new component this year." Not new are free admission, parking and trolley rides to and from the grounds. 
Groat hastens to mention that though food may be the biggest—or at least tastiest—draw, the event has a deeper function. "What a lot of people don't realize," says Groat, "is that there is a huge fundraising component for charities." Each year the fest chooses several organizations to support, and in return, those organizations provide fest volunteers. In the last 20 years, volunteers have logged more than 10,000 four-hour shifts; in the last 30 years, the fest has provided more than $1.3 million to partner charities. "We love to see those relationships develop between the parishioners and volunteers," says Groat. "It's not just getting a check."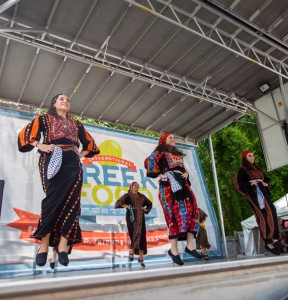 This year's charities are Big Brothers Big Sisters of Central Arkansas, Community Connections, Easter Seals Arkansas, Literacy Action of Central Arkansas, Youth Home and the Wolfe Street Foundation; proceeds also benefit the Annunciation Scholarship Foundation and Annuciation Ministries. 
Since you probably don't need any more reasons to go, here's an insider tip: Go early. Popular treats like saganaki (flaming cheese—opa!) and baklava are always in danger of running out; production has increased, but better safe than sorry, right? The fest will be open from 11 a.m. to 9 p.m. on Friday and Saturday and from 11 a.m. to 3 p.m. Sunday. For more information, including the full menu, entertainment schedule and travel details, visit their site: www.greekfoodfest.com.
Now, to wet your whistle, check out this video of pastry chef Anna Clift making baklava!
[embedplusvideo height="370″ width="605″ editlink="http://bit.ly/1TgdAO6″ standard="http://www.youtube.com/v/BIiQCsID49U?fs=1&vq=hd720″ vars="ytid=BIiQCsID49U&width=605&height=370&start=&stop=&rs=w&hd=1&autoplay=0&react=0&chapters=&notes=" id="ep2732″ /]