Come see what's buzzing in the Delta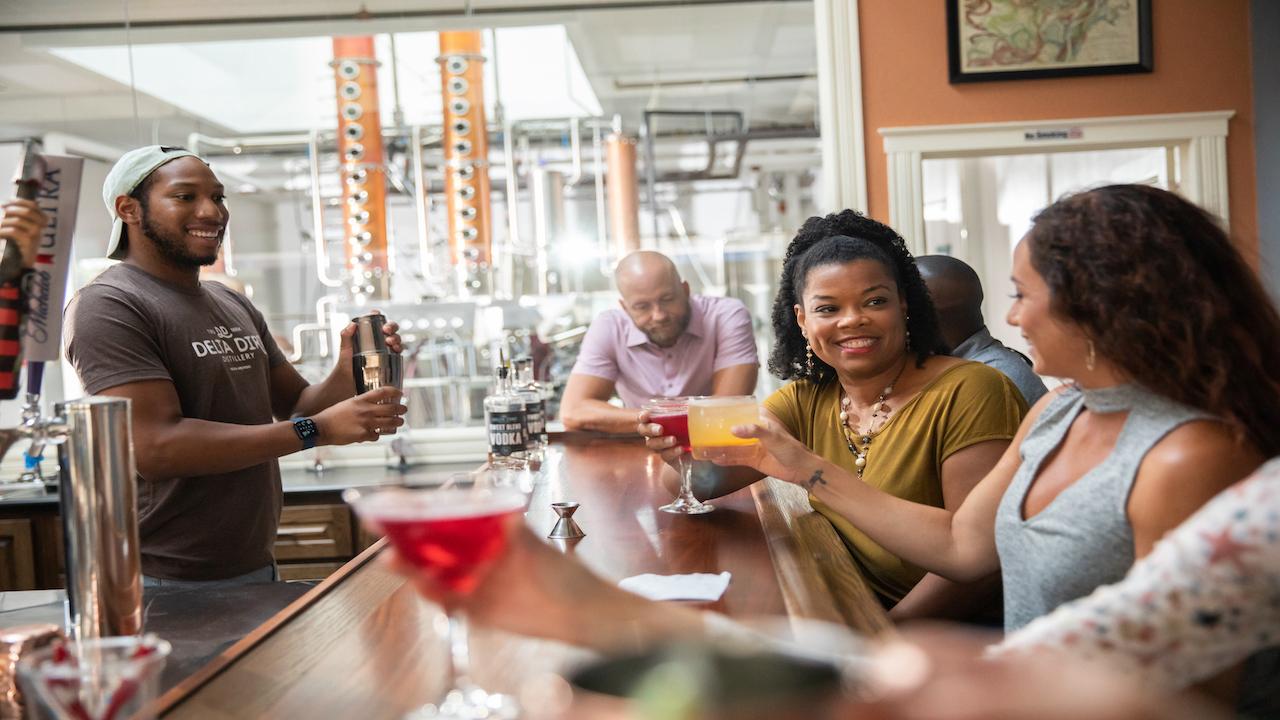 There's an exciting new destination for good times and great drinks in downtown Helena, Arkansas.
The name rolls off the tongue: Delta Dirt Distillery. It's a name full of history, heritage, and pride in the Delta region of Arkansas. It's a name that sings the blues rhythms that still rise here along the Mississippi River.
The creators of this cool craft distillery know firsthand all about the Delta, its soil, and its spirit, and that's why the distillery is a perfect stop when you want to experience that Delta flavor.
Harvey and Donna Williams have deep roots near Helena. Those roots go back four generations to when the family began sharecropping on nearby farmland, then went on to become land-owning local farmers.
The Williams family's new craft distillery uses produce grown on their family farm to produce handmade spirits. The distillery's first product, the Sweet Blend Vodka, is a certified hit that keeps selling out almost as fast as they can make it. What's special about it? It's made from sweet potatoes, the same product that saved the family farm decades ago. The earthy, peppery taste of the vodka is drawing praise from many new fans who have visited the Delta Dirt Distillery tasting room since its opening.
Hip tasting room with cocktails, food
And speaking of the tasting room—what a great lounge! Currently open on Fridays, Saturdays and Sundays, the tasting room offers custom cocktails brewed with distillery spirits as well as more beverage choices. With a hip, laidback and current vibe, the seating area is full of retro-styled couches and cool copper side tables where you and your friends can kick back and enjoy the mood. The Williamses renovated a vintage grocery store on historic Cherry Street, and the setting is perfect. As you sip your Dirty Mule, you can listen to music and gaze through the big glass windows at the huge copper pot still topped with a double column like a steampunk submarine.
In addition, the tasting room is serving finger foods every weekend. "When people are drinking, they like to have something to eat, and they should have something to eat," Harvey said. "So, we arranged for a local caterer to provide things like wings and smoked sausage sandwiches. We wanted quality food and we told the caterer that as long as we break even, we don't need to make any money from it."
Giving to the community
That generous spirit characterizes so many things about the work of the Williams family. "We have a passion for giving back, and we are committed to making a positive impact in the Arkansas Delta," Harvey said. "Our customers share in this promise, because we donate one percent of our sales to local education and community initiatives." As their business plan developed over several years, the family wasn't even sure they were going to offer a full-service bar on the distillery site. "We were just planning to have people tour the tasting room and sample some really good spirits," Harvey said. But then he and Donna started talking about other options. "We said, you know what? We could really create a space for people to come and enjoy seeing how it's all done. That's why we created that big glass window behind the bar where you can see the equipment," Harvey said.
Sip-and-see tours are still part of the experience too, and for now, they are completely free.
"I really enjoy giving tours, and I've had people say that we should charge to give tours," Harvey said. "But I'm not ready to do that. There's so much knowledge to gain, and I like making it available to people when they visit. And every tour is different because the questions are different. I could tell this one group was probably moonshiners because their questions were so specific!" He chuckled.
Hanging out in Helena
Helena has been famous as a major pilgrimage site for lovers of the blues ever since the 1930s, when famous blues musicians flocked to town for its nightlife.
The legendary blues radio show "King Biscuit Time" is broadcast on Helena's KFFA. Every year in October, blues fans flock to Helena for the King Biscuit Blues Festival where you can hear blues greats play all over town. October will be a perfect time to take in that top-notch music along with some cool-cat time with friends in the Delta Dirt Distillery tasting room.
After your distillery visit, check out the Delta Cultural Center, where you can explore the region's history. Colorful murals downtown make for a great self-guided tour, and museums such as the remarkable Queen Anne-style Pillow-Thompson House add more local flair. Canoe tours nearby on the Mississippi and lovely state parks and trails offer outdoor adventures that make it all the sweeter to come back for a refreshing cocktail at Delta Dirt.
Bringing people together in the community
There's another big positive that the distillery has already brought to town. In this part of the country, businesses are often still identified as either black or white, with clienteles that self-segregate.
"Donna and I did not want that for this business," Harvey said. "We wanted it to be a place where everyone can come and feel welcome no matter what your age, sexual orientation, race or anything else."
And even in the short months since the opening, the distillery has been fulfilling this promise. According to Harvey, an observer told him that if his mission was bringing people together across boundaries, well, mission accomplished! Because every time the tasting room is open, you see people of all stripes hanging out having a good time, in exactly the way the Williams family had hoped.
Exciting plans from the master distiller
Delta Dirt Distillery is branching out next with two new products: Tall Cotton Gin and Delta Blues Bourbon.
In charge of the development process is Harvey and Donna's son, Thomas, who became certified as a master distiller to take a crucial role in the distillery. Thomas was initially interested in a medical career, but as he recently told PBS in a moving segment of "American Portrait," he was able to take his interest in science in a new direction with his distilling work.
From an inspiring past to a brighter future
The family roots of the Williams family's distillery dream go back to their land nearby, where it all started four generations ago with one Black man's determination to make a life for his family, against the odds. To see more of the inspiring story of how Harvey's grandfather rose from sharecropping to owning his own farmland, see the PBS episode of "American Portrait" here.
Now, the family looks forward to establishing a family business that will last for future generations.
In the shorter term, making lots of spirits is the number one plan. With the King Biscuit Blues Festival rolling toward its dramatic return in October, the Williamses are trying to build up inventory for tens of thousands of customers. There couldn't be a better match for the history and soul of the Delta Blues than this soulful tasting lounge at the Delta Dirt Distillery, where all are welcome.
For the Festival, singers will be entertaining in the tasting room. And until then, Harvey will be reaching out to more local musicians in his quest to bring people together for fun and good times in Helena.
"We've had local artists playing guitar and harmonica in here on weekends, and we're looking for more to come in and play," Harvey said with his infectious enthusiasm. "Maybe we can become a place where up-and-coming artists say, I'm going to be at Delta Dirt this weekend!"
It's a dream with roots, and a dream worth rooting for.
Come see what all the buzz is about. Kick back in the tasting room with a Delta Dazzler or a Delta Made Lemonade made with the best sweet potato vodka a dream ever distilled. It's an experience you'll never forget in the heart of the Delta, where everybody's ready for more of the best blues anywhere, savored with a tapping foot and a cool sipping glass in hand.