Construction Starts on Elk Viewing Areas
Much needed road construction on parking areas for wildlife viewing in Boxley Valley. I love to stop and see those majestic elk grazing in the fields along the Buffalo National River. So do hundreds of other people each year. Right now people pull off on the side of the road, get out of their cars and stand between the road and the fences to view and take photos of these elk herds.
The new parking areas for wildlife viewing will alleviate congestion and increase safety, especially during high traffic periods. While this will enhance and ease the experience, it will make it a little difficult during the process. Construction is taking place through the summer.
Elk have free range and can be seen at several different locations. The most common place to view them is the six miles of Ark. 43 and Ark. 21, where the construction is taking place. So if you're headed to Boxley Valley soon, just be aware.
The best times to see the elk are dusk and dawn. In the heat of the summer they will usually be under the shade of a tree or along the river's edge. They don't graze in the fields until the sun is off of it. Autumn is a great time to see them in the fields, particularly October and November. They put on an extra show because it's rutting season and bull elk have large antlers to show off to their cow elk, other bulls, and you.
No matter what time of year, remember to stay back behind the fence line. Elk are wild animals and can feel threatened by your presence.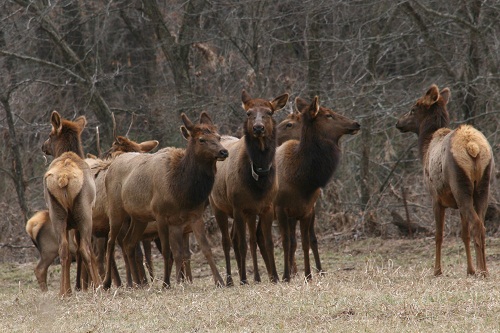 "The Eastern Elk (Cervus elaphus canadensis) subspecies was native to the forest and forest-edge habitats of Arkansas. Historical records indicate that this subspecies was extirpated from the state by the 1840s and extinct by the end of that century. Over hunting, habitat destruction, and competition for food with domestic livestock are the most likely causes for its disappearance," according to the National Park Service website.
"In 1981, the Arkansas Game and Fish Commission began an Elk Restoration Project and stocked 112 Rocky Mountain Elk (Cervus elaphus nelsoni) in the Buffalo National River area. Reintroduction restores a native large herbivore to the ecosystem which in turn restores habitat for other plants and animals."