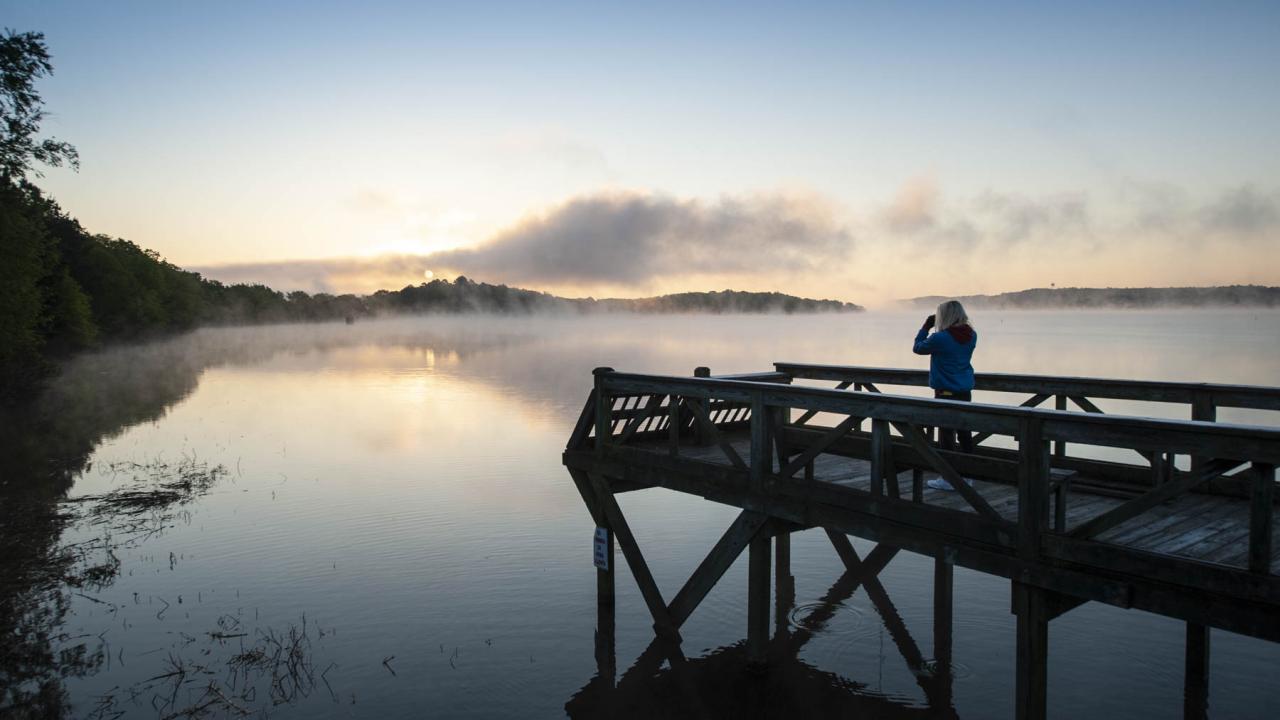 Conway, una vibrante ciudad universitaria y una de las comunidades de más rápido crecimiento en el estado con más de 50.000 habitantes, está situada aproximadamente a 30 millas al noroeste de Little Rock a lo largo de la I-40. Según los registros de la ciudad, fue fundada en 1875 por A.P. Robinson quien llegó a la zona justo después de la Guerra Civil. Hay dos suposiciones en cuanto a por qué el nombre "Conway" fue seleccionado. Una de ellas es que fue nombrada por la locomotora de vapor que llevó el primer tren a la estación. La otra es que fue nombrada por la familia Conway, prominentes residentes de Arkansas desde tiempos territoriales.
Conway también ocupa un lugar en la legendaria Ruta del Correo de Butterfield, que se extendía desde Memphis hasta Chicago. Lo que hoy es Toad Suck Park, otra entidad del Cuerpo de Ingenieros del Ejército de EE.UU., fue en la década de 1870 el sitio del Aterrizaje en el Escenario de Butterfield. Tanto el Sendero de las Lágrimas como la Ruta del Correo Terrestre de Butterfield forman parte del Sistema de Senderos Patrimoniales de Arkansas.
Siendo el hogar de no una sino tres universidades - University of Central Arkansas, Hendrix College y Central Baptist College - significa que siempre hay algo que hacer, ya sea una producción teatral, una exposición de arte, un concierto o una conferencia de un orador de renombre. Hendrix College, una institución privada de rango nacional, se estableció en 1890. Tres años más tarde, en 1893, se estableció el Central College for Girls (ahora Central Baptist), y la ciudad de Conway, estaba en camino de convertirse en un centro educativo. La University of Central Arkansas siguió en 1907 como la Arkansas Normal School.
Canales y represas sobre el río Arkansas en Little Rock y Conway han creado estanques en el Toad Suck Park en esta ciudad que comprenden aproximadamente 19,000 hectáreas de agua. Esta zona es particularmente popular entre los pescadores y los navegantes. El lago Conway, el lago más grande hecho por el hombre en los Estados Unidos con 6,700 acres, ofrece una excelente pesca, mientras que el Lago Beaverfork es popular para la recreación en el agua. Las oportunidades de compras y adquisiciones de antigüedades abundan en Conway, así como las opciones para tener una cena elegante o casual.