Cotter Trout Festival is first weekend in May
Get ready for gypsy-jazz, an old-fashioned White River shore lunch, parade, car show, fly casting demonstrations and more on the first weekend of May during the annual Cotter Trout Festival.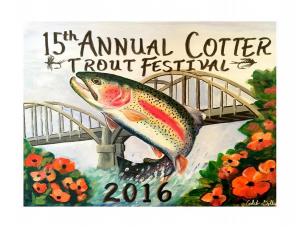 The fun kicks off from 4:30 p.m. until dark on Friday, May 6 at the pavilion in Big Spring Park. Live music will be by the Cutthroat Trout Band. The shore lunch menu will include two 4 oz. American catfish filets, hush puppies, fried potatoes, corn on the cob, apple cobbler, appetizers, and beverages.
Saturday, May 7 activities include a parade, arts and crafts booths, raffles, fly casting and fly tying demos, and a classic car show. You can enjoy more live music from the Cutthroat Trout Band as well as The Crooked Creek bluegrass band, and Miss Violet Hensley the "Whittlin' Fiddler from Yellville. Tons of activities will be offered for kids. The Arkansas Game and Fish Commission booth will have games, plus you can see the shocking boat and stocking raft it uses. From 10:30 a.m. to noon is the Lowe's Kids' Building Project. Kids 15 and younger can throw a line in the Kids Fishing Hole from 10 a.m. to 2 p.m.
Held along the White River at Big Spring Park, the Trout Festival is a great weekend of fun and fellowship in this town that bills itself as the "Trout Capital of the USA." The clear cold waters flowing along the banks of Cotter attract anglers in search of trophy trout. Fly fishermen, spin casters, experts and novices visit from around the world to cast into the White River for rainbow, brown, brook and cutthroat trout.
The White River flows past limestone bluffs and woodland areas where wildlife abounds. A significant attraction along the water is Big Spring Park. It contains a two-mile walking trail that follows the river upstream to the Denton Ferry site, which is a part of the Trail of Tears. Or head downstream across the walking bridge. The park contains picnic areas, playground, swimming hole, boat ramp and more.
Also at the park is the Anglin-Tinnon Railroad Workers' Memorial, an impressive array of displays to honor the men who worked on the White River route of the St. Louis, Iron Mountain and Southern railroads, which later became the Missouri Pacific. It contains two cabooses, a conductor's statue, a history of the town and the names of railroaders engraved in stone.
Also worth seeing is the R. M. Ruthven Rainbow Arch Bridge, originally dedicated in 1930 and renovated in 2004. The largest Marsh Rainbow Arch Bridge known to exist today, it is on the National Register of Historic Places. The reinforced-concrete rainbow arch design was patented by James Marsh in 1912. This five-arch span was a major factor in the development of transportation in north-central Arkansas.