Craft Beer at Superior Bathhouse Brewery, Hot Springs National Park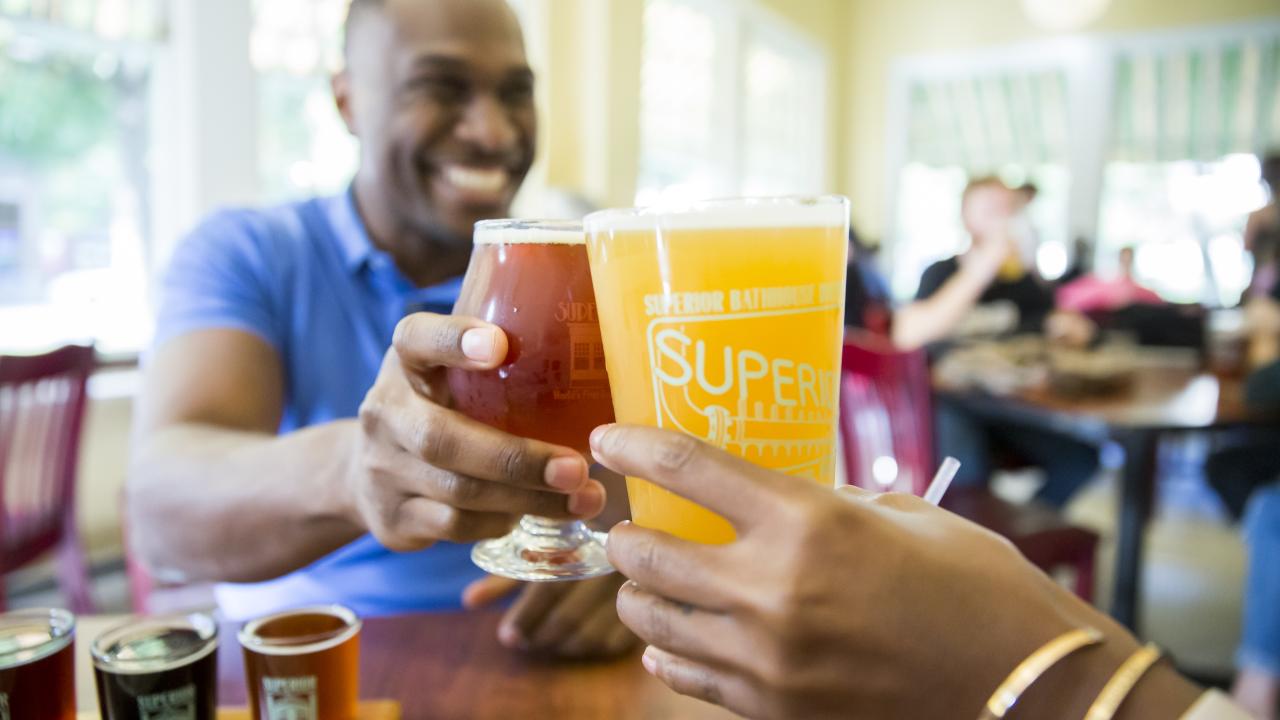 Nearly a century ago, Al Capone used spring water jugs to smuggle moonshine out of the Ouachita Mountains to his speakeasies in Chicago. Today, Superior Bathhouse Brewery is brewing up craft beers and root beer in the heart of Hot Springs National Park. Vacant for 30 years, Superior Bathhouse now hosts the first and only brewery inside a national park. Brewmasters use the 144°F mineral spring water flowing out of the tufa rock behind historic Bathhouse Row to put #HotSpringsOnTap. It is also the world's only brewery that uses natural thermal water to brew all of its beer.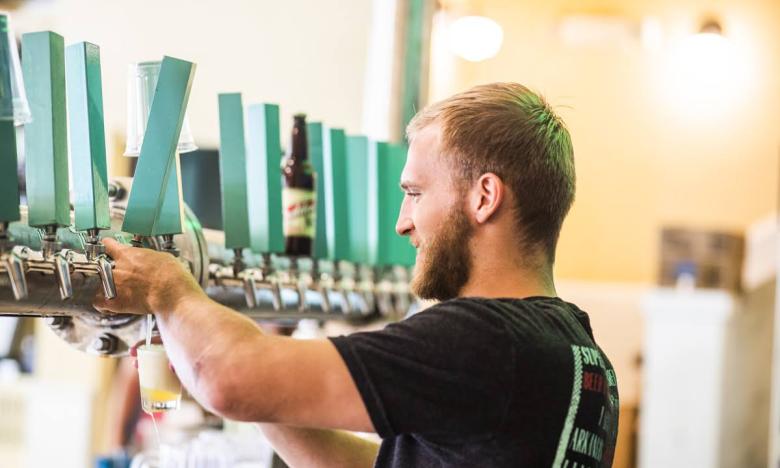 Through the years, Hot Springs has been home to MLB Spring Training, illegal gambling and gangsters like Al Capone, Owney Madden and Lucky Luciano. Now, it's a family-friendly destination rich with art and culture.
Superior Bathhouse opened its doors on February 1, 1916. Known as "The People's Bathhouse," it was the smallest but most affordable bathhouse on the row. The building was designed by architect and Hot Springs native Harry C. Schwebke in "an eclectic commercial style of Classic Revival origin." The bathhouse shut its doors in 1983.
Enter Rose Schweikhart. While living in Illinois, Schweikart learned the art of brewing. After moving to Hot Springs in 2011, she dreamed of opening her own brewery. She also wanted to be the first to use the park's thermal spring water to brew craft beers and to open the first brewery in a U.S. national park. After a two-year-long process, Schweikart's dream became a reality. Preserving as much of the original building as possible was one of Schweikhart's top priorities, and the bathhouse reopened in 2013 as a brewery complete with the original tile floors, bar and windows overlooking historic Central Avenue.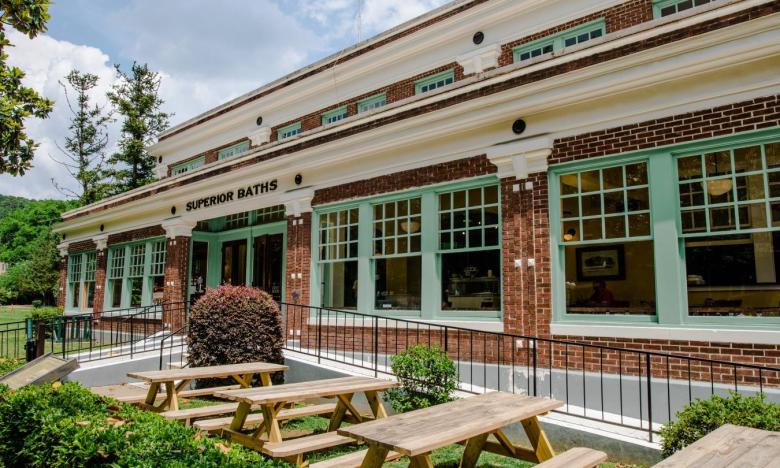 Superior Bathhouse Brewery is surrounded by history. For centuries the thermal waters flowing out of the Ouachita Mountains have drawn people to the Valley of the Vapors. The medicinal properties of the steam and mineral waters were the subject of many Native American legends. In 1832, Hot Springs Reservation was created by the United States Congress, the first land to be set aside by the federal government for preservation. After receiving federal protection, the thermal waters became a literal hot spot. When word got out of the healing properties of the waters, the town blossomed into a successful spa destination nicknamed, "The American Spa."
Following the Civil War, illegal gambling became a firmly established practice in Hot Springs, and during prohibition, it became a mecca for some of America's most infamous gangsters. Superior's neighbor, the historic Arlington Hotel, was a favorite of Capone during the 1920s, and there was even an underground tunnel system put in place so he could move about downtown discreetly.
Notorious gangster Owney Madden was at the center of the illegal gambling business in Hot Springs. His time there pushed the town into the spotlight with more than 10 major casinos openly operating in the city, the largest gambling town in the United States at the time. Now, you can sip on Madden's No. 1, a great "starter" craft brew for those new to crafts, at Superior Bathhouse Brewery after a walk around the nearby Gangster Museum of America.
In 1921, Hot Springs Reservation was officially renamed and designated America's 17th national park. The unique, urban national park now covers 5,500 acres, making it one of America's smallest, but what Hot Springs National Park lacks in size, it makes up for in history, culture and scenic views just off the beaten path.
Sustainability and responsibility were key factors in Schewikhart's decision to use the thermal spring water for brewing. By not having to purify water (or use pre-treated tap water), the brewing process is streamlined and more environmentally responsible.
Thermal water flows out of the springs in Hot Springs National Park a rate of nearly a million gallons per day. That's a lot of hot water! The first step in the brewing process is to bring the water to a temperature of 160°F to boil the grain. The naturally pure, naturally hot water enables Schweikhart's team of brewmasters to save even more energy and time creating a smorgasbord of brews, from traditional German lagers to experimental sours, barrel-aged stouts and West and East Coast-style IPAs, and many other varieties. Craft beer doesn't get much more well-crafted than at Superior Bathhouse Brewery.
Superior Bathhouse Brewery supports a full-circle, farm-to-table experience. The spent grains from brewing are shipped to JV Farms in nearby Bismarck for livestock feed, resulting in ethically sourced, local, "beer raised and braised" brats and pork products.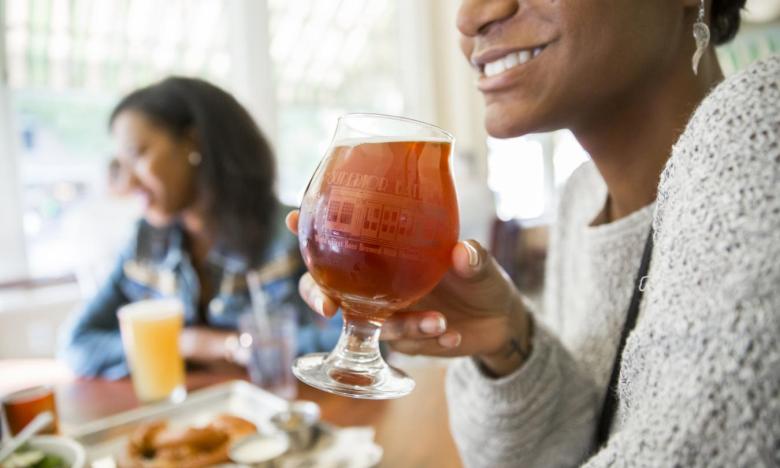 Community involvement is a large part of the culture in Hot Springs National Park. Superior carries that on and partners with eco-conscious, community-minded groups such as the Trail Advocacy Coalition of the Ouachitas (TACO), Northwoods Trails, Visit Hot Springs and Low Key Arts to help bring culture, recreation and good beer to all. Hot Springs announced recently that it will be transitioning to 100% solar energy, helping further Superior Bathhouse Brewery's mission to brew as sustainably as possible.
As the first and only brewery in a national park, Superior Bathhouse Brewery offers a unique and refreshing twist on the thermal water in the Spa City with 18 rotating taps of housemade beer. Inside and out, Superior is dog and kid-friendly, with enough space to easily host large groups and parties. Swing by for a growler fill, a "beer raised and braised" brat or cold root beer brewed with natural spring water. Drop-in for happy hour specials Monday through Thursday from 3 to 6 all year long. Follow Superior Bathhouse Brewery on social media to stay up to date with new offerings and seasonal hours.