Crooked Creek Trails Dedication This Weekend!
The Arkansas Game and Fish Commission will dedicate a 22-mile water trail and almost 5 miles of hiking trails at Fred Berry Conservation Education Center on Crooked Creek ( in Yellville) this weekend. The aim of the trail is to help anglers, paddlers and wildlife watchers enjoy this Ozark stream. The trail covers 22 miles of the stream, from Lower Pyatt Access to Yellville, although other stretches of the stream may be floated.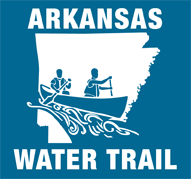 The dedication begins at 10 this Saturday ( March 30)  at the center's pavilion. The water trail is part of the Arkansas Water Trails project which is creating and mapping a system of canoe and kayak trails across the state.
Canoes and kayaks will be available at 10:30 and 1 to float about 1.5 miles of the creek, which is known for its smallmouth bass fishing, around the education center property. Paddlers will put in with an AGFC guide and take out at Kelley's Slab. Of note: kid's under 14 have to have an adult with them. To join the float, register at 870-449-3484.
A guided birding hike with Sharon Boatright, an experienced Audubon birder, is scheduled for the center's Woodland Edge Trail. Bring binoculars and a field guide.  For those who work up an appetite, free hot dogs will be served at the center's pavilion beginning at noon. To learn more about the area, check out:www.agfc.com/resources/wildlifeviewing/crookedcreek-watertrailmap.pdf.
The Fred Berry Conservation Education Center on Crooked Creek covers 421 acres along a 2.75-mile bend of the creek. The property, which used to be an old dairy farm,  includes interpretive trails, outdoor and indoor learning areas, and access to the creek.
To reach the center, travel 0.7 miles west on U.S. Highway 62 from the county courthouse in Yellville. Turn on Marion County Road 4002 and continue a mile to the bridge that crosses Crooked Creek. The pavilion and the center are across the bridge.
If you can't make Crooked Creek, there will be another water trail dedication on April 5 at 10 at Bayou DeView.  The dedication will be at the Sheffield Nelson Dagmar Wildlife Management Area near Brinkley.
For details on both of these trails, contact AGFC watchable wildlife coordinator Kirsten Bartlow at 501-993-3910.