Crush Your New Year's Resolutions With Central Arkansas's State Parks
It happens every year: Resolution fatigue. We begin the year with the best of intentions, vowing to step away from the junk food and onto the treadmill, to spend more quality time with family and friends and spend less money on material things we don't really need.
And though we come rip-roaring out of the gate, knocking out those goals like so many critters in a game of Whac-A-Mole, after a few weeks of trying to fit our better selves into our busy schedules, our willpower starts to flag and we find ourselves reverting to our comfortable old ways. If this sounds familiar, 2016 is the year to break the cycle.
One of the top reasons people give up on their resolutions is that they've tried to take on too many changes at once. Psychologists say that we're much more likely to be successful at changing habits if we only try to change one at a time. But what if you could meet all your New Year's goals without even trying, by making just one resolution? You can, by simply resolving this year to spend more time in Central Arkansas's State Parks.
With six state parks in the area offering free access to everything from hiking to historical tours, there are numerous ways for your family to reconnect, recharge, and effortlessly get in some exercise.
You could spend a month of Sundays at Petit Jean State Park, whose 2,658 mountainous acres in Morrilton encompass miles of trails with scenic overlooks, bluffs, canyons and the spectacular 95-foot Cedar Falls, and barely scratch the surface of all there is to see and enjoy on Petit Jean Mountain. If you're hiking the park with small children, you might want to stick to some of the least strenuous of the park's 20 trails.
The Bear Cave Trail and the Rock House Cave Trail are both easy, quarter-mile trails, and though neither has a true cave, Bear Cave's monolithic stone boulders give the atmosphere of one, and the Rock House shelter contains Native American rock art created more than 500 years ago.
You can breathe easy meandering past the small falls and pools of the one-mile Canyon Trail; slightly more advanced hikers should backtrack from here to the Cedar Falls Trail to see the most photographed waterfall in the state. If you don't feel like doing the planning yourself, Petit Jean will be offering First Day Hikes January First on Bear Cave, Rock House Cave, and Cedar Falls trails.
Five First Day Hikes will also be offered at Pinnacle Mountain State Park in Little Rock—ranging from the easygoing Arkansas Arboretum and smoothly paved Kingfisher trails to the heart-pumping Rocky Valley and West Summit trails, which offer rocky challenges that pay off in forested valley and breathtaking mountaintop views. Post-hike, enjoy hot chocolate around a campfire and "burn away" 2015's bad habits.
If you want to exercise your creativity along with your legs, the opportunity to contribute to the first-ever First Day Hikes mural will be available at the Pinnacle Patio all day. All participants in First Day Hikes at Pinnacle will receive souvenirs.
To take in a little education with your exercise, head over to Lower White River Museum State Park in Des Arc or Plum Bayou Mounds Archeological State Park, formerly Toltec Mounds Archeological State Park, and Plantation Agriculture Museum State Park, both in Scott. All three parks offer free, self-guided walking tours through grounds and exhibits highlighting an important aspect of Arkansas's history. Visitors to the Lower White River Museum will learn about the significance of Arkansas's White River as a transportation route for the state's early settlers from life-size figures who narrate tales of those early days.
The ¾ and 1.6-mile trails of Toltec Mounds will introduce you to Arkansas's tallest American Indian mounds, three of which remain in a ceremonial and governmental site that dates to A.D. 650 and is now a National Historical Landmark; the visitor center features artifacts from the site. The three historic buildings of the Plantation Agriculture Museum—the main building, The Dortch Gin, and Seed Warehouse No. 5—house exhibits that interpret the history of cotton agriculture from statehood through World War II.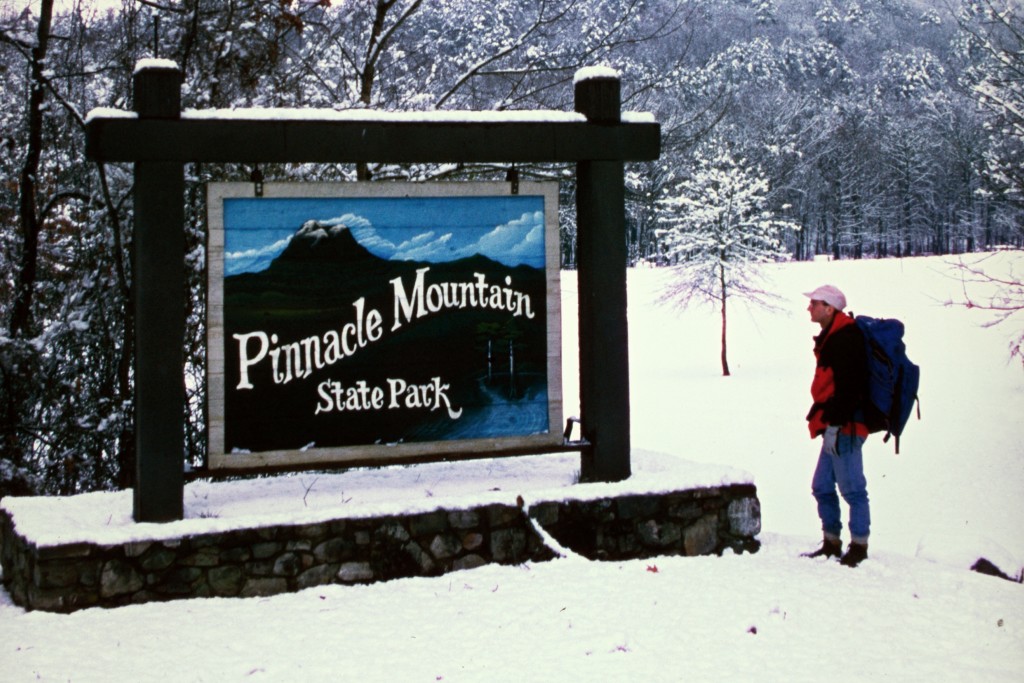 For the thrill-seeking family, pack up your mountain bikes and head to Woolly Hollow State Park in Greenbrier. The 400-acre park, located on 40-Acre Lake Bennett, is a popular summer destination for swimming, boating and camping; this time of year, Enders Fault hiking and mountain biking trail is the place to be. The 10-mile trail wanders through valleys and by creeks before climbing 150 feet of ridges to offer views of Lake Bennett.
Two mountain bike loops offer varying levels of technical difficulty.  If staying on foot is more your speed, the 3.5-mile Huckleberry Trail is a not-too-challenging loop around the lake that offers scenic views and time out of mind in the peace of the hardwood forest.
So here's a little New Year's challenge for you, if you're up for it: This year, instead of resolving to get fit, save money, and enjoy life more with your family, resolve to visit Central Arkansas's State Parks as often as you can. With all these parks have to offer, you'll be achieving your goals without even thinking about it—and having a fantastic time doing it!