Crystal Bridges Announces New Acquisitions
Crystal Bridges Museum of American Art in Bentonville has acquired five new artworks: two sculptures and two paintings are by artist Louise Bourgeois (1911-2010), and Jasper Johns' Flag.
The works by Bourgeois are: Maman, 1999 (bronze, stainless steel, and marble), Quarantania, 1947-1953 (bronze, painted white with blue and black, and stainless steel), Connecticutiana, 1944-1945 (oil on wood), and Untitled, 1947 (oil on canvas).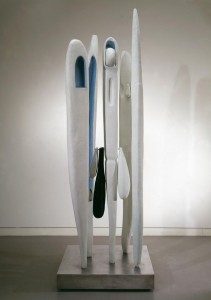 Bourgeois's work spanned most of the 20th Century and helped inform the growing feminist art movement. She immigrated to the United States from Europe.
"Quarantania recently debuted in Crystal Bridges' 1940s to Now Art Gallery, in a focused area featuring artists' depiction of the human form. Although Quarantania's life-size figures are simplified and abstracted, they represent deeply personal and complex facets of Louise Bourgeois's own life and relationships. The figures' tight grouping evokes the feeling of close emotional relationships. Shaped like shuttles used in weaving, they are linked to the artist's childhood and the tools used by her parents, who restored antique tapestries as a profession," according to a museum press release.
"Quarantania likely represents the artist's own family at the time, with herself in the center carrying packages, surrounded by her husband and three sons. The hanging packages allude to the artist's role as caretaker for her family and the burden of childcare. The title of the work (from French: quarante, meaning 40) likely refers to Bourgeois's age, a subject she explored throughout her career: she turned 40 in 1951.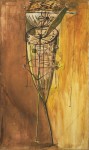 "Two landmark works from the 1940s, Connecticutiana and Untitled, are also part of this acquisition. While the paintings of Louise Bourgeois have been widely acclaimed and exhibited in the United States and Europe, this marks the first acquisition of Bourgeois paintings by a museum in the United States.  These paintings will debut in the 1940s to Now Art Gallery in summer 2015.
"The monumental sculpture Maman, (from French: mama), measures more than 30 feet in both length and height, and will be installed on the museum's grounds later this year. The earliest examples of the spider image appeared in Bourgeois's work in the late 1940s as drawings. The first spider sculpture cast in bronze was made in 1990. Bourgeois said of the spider works, "The Spider is an Ode to my mother. She was my best friend. Like a spider, my mother was a weaver. My family was in the business of tapestry restoration, and my mother was in charge of the workshop. Like spiders, my mother was very clever. Spiders are friendly presences that eat mosquitos. We know that mosquitos spread diseases and are therefore unwanted. So, spiders are helpful and protective, just like my mother."
In 2000, Bourgeois was commissioned to create Maman for the opening of Turbine Hall Gallery, part of Tate Modern in London. Bourgeois saw this as an opportunity to create the single largest and most elaborate spider in her career."
The debut of Jasper Johns' Flag (1983, encaustic on silk flag on canvas) will be part of a Flag Day weekend debut in a focused area in the museum's permanent collection gallery. A member preview with curator Chad Alligood is scheduled for June 12 with the public opening on June 13.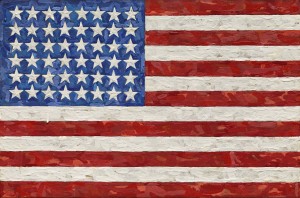 The flag appeared in more than 90 of Johns's works throughout his career. Johns grew up in South Carolina and was named for an ancestor famous for rescuing a flag during the Revolutionary War. Johns used the same basic composition for each flag, including 48 stars and 13 stripes, as the first flag was created before Hawaii and Alaska joined the United States. This painting contains a silk flag, collaged on canvas, as its base layer and tells the story of shifting art movements in late 20th Century American art.
Since 1983, Crystal Bridges' Flag has been in the private collection of Mark Lancaster, a British artist and assistant to Mr. Johns.
Crystal Bridges
The mission of Crystal Bridges Museum of American Art is to welcome all to celebrate the American spirit in a setting that unites the power of art with the beauty of nature. Opened to the public on 11-11-11, Crystal Bridges was founded in 2005 by the Walton Family Foundation as a nonprofit charitable organization for all to enjoy.
Crystal Bridges takes its name from a nearby natural spring and the bridge construction incorporated in the building, designed by world-renowned architect Moshe Safdie. A series of pavilions nestled around two spring-fed ponds house galleries, meeting and classroom spaces, and a large, glass-enclosed gathering hall. Guest amenities include a restaurant on a glass-enclosed bridge overlooking the ponds, a Museum Store designed by architect Marlon Blackwell, and a library featuring more than 50,000 volumes of art reference material. Sculpture and walking trails link the Museum's 120-acre park to downtown Bentonville, Arkansas.
Crystal Bridges' permanent collection spans five centuries of American masterworks ranging from the Colonial era to the current day. Included within the collection are iconic images such as Asher B. Durand's Kindred Spirits, Norman Rockwell's  Rosie the Riveter, and Andy Warhol's Coca-Cola [3]— each reflecting a distinct moment in American artistic evolution—as well as major works by modern and contemporary American artists, including Georgia O'Keeffe, John Baldessari, and James Turrell. The permanent collection, which continues to grow through a strategic acquisition plan, is on view year-round and is enhanced by an array of temporary exhibitions.