Daffodils at Peak Bloom at Garvan Woodland Gardens
Editor's note: The event featured in this article occurred in 2014, but we hear that this year's will be the best yet. Find it on our Events page.
If you are hoping to check out the daffodils at Garvan Woodland Gardens in Hot Springs, good news.  According to Sherre Freeman at Garvan, it is peak bloom time now for them.  Due to cold temperatures in the Gardens from January up to March, the annual daffodil bloom time was delayed. With the warmer temperatures the Gardens, which are located at 550 Arkridge Road, are in the midst of peak bloom time now for the flowers.
The blooms of thousands of yellow and white daffodils make an annual appearance throughout the Gardens each spring. According to copy on the Garvan website, many of the daffodils can be found at Three Sisters of Amity Daffodil Hill on Warren's Woodland Walk in the center of the main garden grounds, at the Trapp Mountain Overlook and on the Twin Rock Ridges Trail.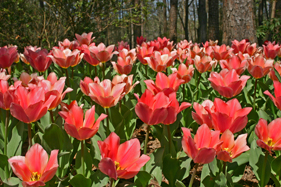 In other Garden news, the tulips are also set to bloom soon. Freeman said they are 2-3 weeks away from peak. The annual Tulip Extravaganza at the Gardens is April 1-30. Here is more details on that, care of the Garvan website: 'Garvan's 130,000 vibrant tulips put on their show during the Gardens' Tulip Extravaganza. Even before the tulips begin their showy bloom, tens of thousands of fragrant hyacinths and daffodils put on a spring show. Later, in April, hundreds of red, pink, violet, and white azaleas and thousands of delicate dogwood blossoms will be on center stage.'
Regular Gardens admission applies. Members free, $10 adults, $5 ages 6-12, free ages 0-5. Check the Gardens Facebook page for current photos of the Gardens bloom, or you can call the Gardens ( 501-262-9300) for more information too or check out their website garvangardens.org.