Daisy State Park Celebrates 60 years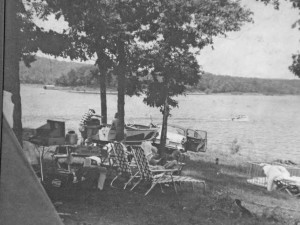 Arkansas's eighth state park, Daisy, is located on 7,000-acre Lake Greeson about 50 miles southwest of Hot Springs. The clean, clear lake makes the park a favorite of campers seeking water sports and fishing. Nearby attractions such as the Little Missouri River, the Ouachita National Forest and Crater of Diamonds State Park make it a good base camp for other activities.
Daisy State Park was created in 1955. The park will be celebrating its 60th year anniversary August 28-30 with a weekend of programs and activities that honor the past, present, and future of the park. Patricia Thomas, who works as the park, sent out the park's schedule for the anniversary weekend. I have included the details below.
Friday August 28:
Geocaching Workshop: Geocaching is a global game played by adventure seekers equipped with GPS units. The basic idea is to locate hidden containers, called caches, and then share about the experience. A workshop to learn the craft takes place from 1-4 p.m. at the Interpretive Center of the park. Admission is $10.
Outdoor Movie Night: Step back in time with the park as they celebrate Daisy State Park's 60th birthday with a free outdoor movie. Alice in Wonderland will be shown on the big screen from 7:30 p.m. to 9:30 p.m. at the amphitheater.
Saturday morning August 29: Scenic Lake Cruise
Take a tour of Lake Greeson by boat to learn about the history and natural features of the lake. This tour takes place from 10 a.m. to 12 p.m. Don't forget your camera and a bottle of water. Registration at the visitor center is required 2 hours before the boat departs. Meet at the Area E Boat Launch. Admission is $10 for adults, $5 for children ages 6-12, and those under 6 are no charge.
Saturday night: 60th Birthday Party Celebration
From 6 p.m. to 9 p.m. park staff will celebrate Daisy State Park's 60th birthday with a 50s themed party. Enjoy the free festivities, and have some birthday cake and ice cream. And wear 50s themed attire to the celebration if you so might choose! Be ready to share your favorite camping stories with your fellow campers. The meeting place is at the park pavilion.
Sunday August 30: Cast Iron Cooking Workshop
Cooking with Dutch ovens has been popular at Daisy State Park for the past 60 years. Join park staff from 9 a.m. to 11 a.m. to learn to care for and use cast iron as they prepare a delicious breakfast. Space is limited, so registration at the Visitor Center is required. All supplies and ingredients are provided. Admission is $15 and the meeting place is at the Interpretive Center.
The park is 1/4 mile south of Daisy off U.S. 70.  The address is 103 East Park Road in Kirby. For more details on the anniversary events, call 870-398-4487 or visit arkansasstateparks.com/daisy/.