De Queen Welcomes The Queen of Country
"To make it in this business, you either have to be first, great or different. I was the first to ever go into Nashville, singin' it like the women lived it." Loretta Lynn
Loretta Lynn, known as The Queen of Country Music, is coming to De Queen.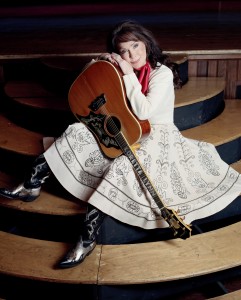 The Collin Raye Benefit Concert Committee has booked Lynn to perform at the Cossatot Amphitheater in De Queen on Friday, June 21. This year, the country music legend is celebrating the 50th anniversary of her arrival on the music scene. Her first debut single (from 1960) was "I'm a Honky Tonk Girl." Lynn has  27 #1 singles and 17 #1 albums. She has received more awards than any woman in country music history and was country music's first Entertainer of the Year.
Gates for the show open at 6. Local Band, "Midnight Hurricanes" – a national Country Showdown finalist, performs at 6:30. Loretta Lynn takes the stage at 8:30. For tickets, you can go to www.southwestarkansasconcerts.com or call 870-642-2446. Reserved seats are $25 and General Admission is $15. More details about Lynn can be found here: www.lorettalynn.com/50/
As to more details on the singer, here is a recap of her career as featured on the Southwest Arkansas Concerts website:
As millions who read her 1976 autobiography or saw its Oscar winning 1980 film treatment are aware, Loretta is a Coal Miner's Daughter who was raised in dire poverty in a remote Appalachian Kentucky hamlet.  Living in a mountain cabin with seven brothers and sisters, she was surrounded by music as a child.
 "I thought everybody sang, because everybody up there in Butcher Holler did," she recalls.  "Everybody in my family sang.  So I really didn't understand until I left Butcher Holler that there were some people who couldn't.  And it was kind of a shock."
 She famously married Oliver "Doolittle" Lynn when she was a barely schooled child of 13.  "Doo" was a 21-year-old war veteran with a reputation as a hell raiser.  When she was seven months pregnant with her first child, they moved far away from Appalachia to Custer, Washington.  By age 18, she had four children (two more, twins, came along in 1964).  Isolated from her native culture and burdened with domestic work, she turned to music for solace.
 "Before I was singing, I cleaned house; I took in laundry; I picked berries.  I worked seven days a week.  I was a housewife and mother for 15 years before I was an entertainer.  And it wasn't like being a housewife today.  It was doing hand laundry on a board and cooking on an old coal stove.  I grew a garden and canned what I grew.  That's what's real.  I know how to survive."
 Doo heard her singing at her chores and declared that she sounded just as good as anyone he heard on the radio.  He bought her a guitar and told her to learn how to play it and write songs with it.  Loretta says her songs were so forthright because she didn't know any better.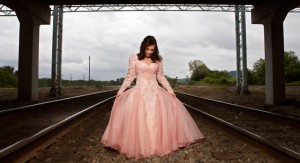 After he got me the guitar, I went out and bought a Country Song Roundup.  I looked at the songs in there and thought, 'Well, this ain't nothing.  Anybody can do this.'  I just wrote about things that happened.  I was writing about things that nobody talked about in public, and I didn't realize that they didn't.  I was having babies and staying at home.  I was writing about life.  That's why I had songs banned."
Doo began pushing her to perform in area nightclubs.  Executives from Zero Records heard her in a nightspot across the border in Vancouver, Canada.  She soon recorded her debut single, "I'm a Honky Tonk Girl," for the little label.  Loretta made herself a fringed cowgirl outfit, and she and Doo drove across the country in his old Mercury sedan promoting the single at station after station.
 Astonishingly, it worked.  The disc hit the popularity charts in the summer of 1960, and by the time the couple made Nashville their full-time home in the fall of 1961, Loretta was singing regularly on the Grand Ole Opry.
Among Loretta's standout songs are "You Wanna Give Me Lift" (1970), "I Wanna Be Free" (1971), "We've Come a Long Way Baby" (1978), "Hey Loretta" (1973), "Love Is the Foundation" (1973), and the hilarious "One's on the Way" (1972).  She memorably romanced and sassed Conway Twitty in a number of popular duet performances in 1970-1982.
 In 1972, she became the first woman in history to win the Country Music Association's Entertainer of the Year trophy. She was featured on the covers of Newsweek (1973), Redbook (1974), and many other mainstream national publications. With her kooky humor, scrambled grammar, and unpretentious manner, she became a TV talk-show favorite.
 Loretta continued to dominate the charts as the '70s drew to a close, scoring major hits with 1976's "Somebody Somewhere," 1977's "Out of My Head and Back in My Bed," and 1979's "I've Got a Picture of Us on My Mind."  Her 1982 hits "I Lie" and "Making Love from Memory" carried her into the new decade.
 One of the most remarkable things about Lynn is how she renews her creativity time and again.  Two years after she was inducted into the Nashville Songwriters Hall of Fame in 1983, she was back on the charts with the hit, "Heart Don't Do This to Me."  In 1988, the year she entered the Country Music Hall of Fame, Loretta recorded with k.d. lang.  She earned a Gold record in 1994 with Honky Tonk Angels, a trio CD with Dolly Parton and Tammy Wynette.
 Doo died in 1996.  Numb with grief, Loretta admits that she was lost in a fog for more than a year.  But she came back again with a 2000 CD titled Still Country.  She also returned to the concert trail.
 Loretta published a second memoir, Still Woman Enough, in 2002.  She was honored at the Kennedy Center in 2003, yet pushed forward again the following year by winning two Grammy Awards for Van Lear Rose, a collaboration with rocker Jack White.  Also in 2004, she published a book of recipes and anecdotes titled You're Cookin' It Country.
 She was inducted into the national Songwriters Hall of Fame in New York in 2008.  She may have won a Grammy Lifetime Achievement Award in 2010, but Loretta Lynn's life is still a work in progress.  She's still out there on the road, still writing songs and still recording them as only she can.
"I ain't a star – a star is something up in the night sky," says Loretta Lynn.  "People say to me, 'You're a legend.'  I'm not a legend.  I'm just a woman."
httpv://youtu.be/VuC_l3ymXhM