Dedication of USS Hoga at Arkansas Inland Maritime Museum
A dedication for the tugboat USS Hoga took place during a Pearl Harbor commemoration ceremony Dec. 7 at the Arkansas Inland Maritime Museum in North Little Rock.
The 100-foot vessel gained National Historic Landmark status in the late 1980s for its crew's firefighting and rescue efforts during the December 7, 1941 Japanese attack on Pearl Harbor. The city plans to preserve the tugboat as part of the museum.
A decade ago, the Navy awarded ownership of USS Hoga to North Little Rock. The city was chosen over four other cities to house the historic boat. Getting the vessel to Arkansas has been an epic 10-year journey. The city and museum worked to find a way to get the boat here, one that was financially viable and also within the lines of the Navy's transport requirements. All that effort has come to fruition and the public can now see and tour the boat at the museum. The tugboat stands out as one of only two vessels still floating that saw action at Pearl Harbor. The other is U.S. Coast Guard cutter Taney, which is in Baltimore harbor.
Now that the USS Hoga is here, the museum has a vessel from the first day of World War II and one from the last day of that war, making it the only museum in the world to have claim to this. The USS Razorback submarine, which the museum acquired in 2004, was present at Tokyo Bay for the official Japanese surrender in 1945. It was one of the longest-serving combat submarines in the world.
In attendance at the ceremony were three survivors from Pearl Harbor, whose ages ranged from 91 to 97 years old. Speakers during the event included Arkansas first lady Susan Hutchinson, North Little Rock mayor Joe Smith, and former North Little Rock mayor Patrick Hays, who has had an instrumental role in the museum and is currently a member of the museum board. After the dedication, the public was invited to tour the USS Hoga and the museum.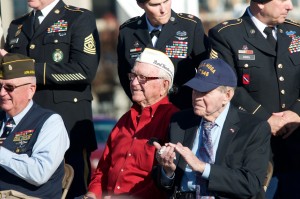 Next year marks the 75th anniversary of the attack of Pearl Harbor. Along with housing the tugboat and submarine, the museum also has exhibits on World War II era vessels and Arkansas River history. For more details on the museum, which is located at 120 Riverfront Park Drive, visit aimmuseum.org.