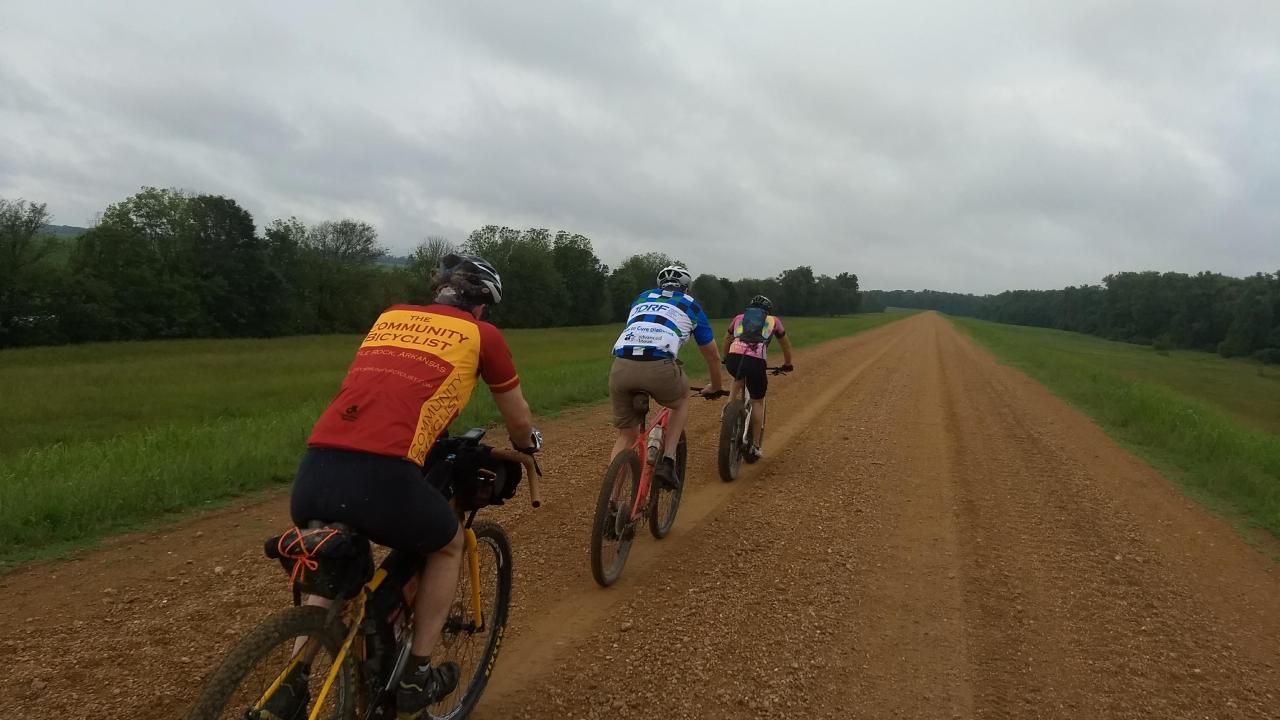 Gravel crunches under our mountain bike tires as we roll through the small northeast Arkansas town of Birdeye. "This is the biggest climb around here," says Martin Smith—our friend and fearless leader—as we hit the base of a not-insignificant incline. The mid-morning sun is already drawing sweat as our party of four crests the hill, and I wonder if I've underestimated riding in the Delta—not a great way to start a two-day journey.
Martin, Jason Alexander, Ted Herget and I are on a mission. Martin, a Birdeye native who moved back after a stint in Little Rock, has big ideas for this part of the state. He wants to develop an annual bike ride that will draw visitors from across the region to compete, enjoy themselves and discover this unique part of the country. For now, he calls it The Delta Project, and our objective is to test his preliminary route, which wends its way from Jonesboro, Arkansas, to Clarksdale, Mississippi, hitting all the Delta highlights along the way.
I'm eager to get started and find the rhythm my companions are already into from the first day's ride, which followed the same trail settlers and traders used to come down from the North along Crowley's ridge to trade goods in Wittsburg along the St. Francis River. Setting off into the morning, we cruise into downtown Wynne and then to Marianna on a series of low-traffic highways and gravel backroads, savoring the silence and scenery. The roads in this part of the state aren't exactly bustling, which is quite alright if you're a bicyclist looking for a low-stress ride.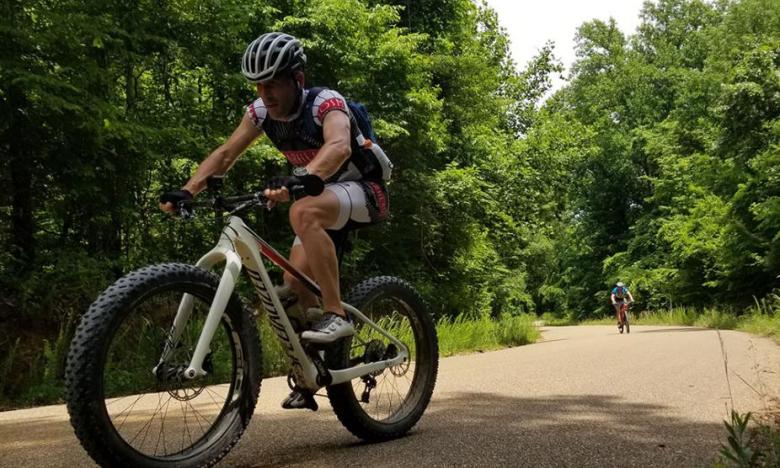 Not that it's easy riding. We take a couple of wrong turns. A few more of those Delta climbs pop up where I least expect them. At one point we have to bushwhack through thick brush to stay on the path. A flooded trail sends us on a lengthy detour. The weather alternates between "blazing heat" and "frigid rain" for hours and in the afternoon we're forced under the eaves of a Methodist church to wait out a full-on thunderstorm. But all is forgotten in the evening when we arrive at a hunting cabin owned by BJ, a longtime friend of Martin's. A tailgate full of freshly-caught bass is just waiting for us to fry, and it might be the very best thing I've ever eaten. BJ didn't have to open his cabin to a group of dirty strangers, nor did he have to catch and clean our dinner for us. But the Delta has its own brand of hospitality that you won't find anywhere else.
That night I sleep better than I have in weeks, and we awake to a light breakfast—we've decided to fill up at the legendary Jones' BBQ Diner just a few miles down the road in Marianna. We venture off into the muggy morning, following Martin down muddy farm roads, then onto the St. Francis River levee—which is a surreal experience that every cyclist should try at some point. The scene at Jones' is hectic: cars flood the small parking lot and people are milling around. The "Open" sign is off and our worst suspicions are confirmed when a would-be patron tells us that Mr. Harold Jones has already sold out of BBQ for the day. It's 9:43 a.m. But that's just how popular this James Beard Award-winning hole-in-the-wall is. Get there early or you might get nothing.
We cruise the streets of Marianna in search of other breakfast options and our wildest food wishes are granted when we happen upon Marie's BBQ & Catering, a food truck that splits its time between Marianna and Jacksonville. The truck doesn't open until 11 but we're willing to wait it out, until Marie herself reaffirms our faith in Delta hospitality, popping out the front door and enlisting her children and nieces and nephews to fire up the cooktop an hour early to feed us. We eat our weight in delicious BBQ, rolls and baked beans and chat for an hour or so. Her daughter even makes us her signature grape slushies. It's tough to leave, in all honesty. But we have more than 50 miles to ride, so we slug on.
"Marie herself reaffirms our faith in Delta hospitality, popping out the front door and enlisting her children and nieces and nephews to fire up the cooktop an hour early to feed us."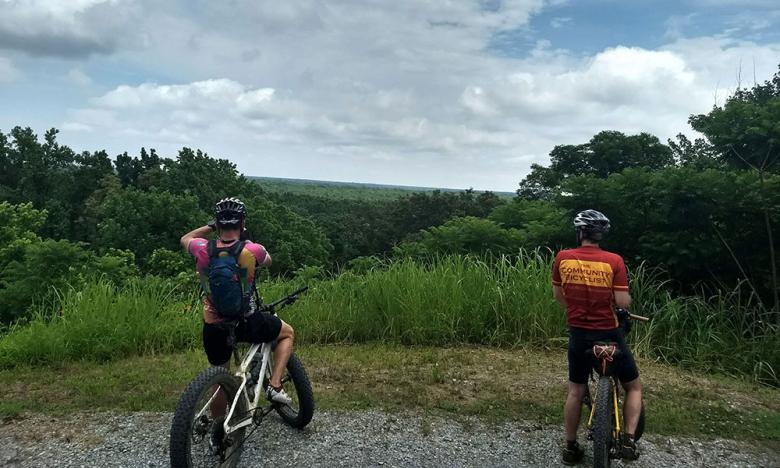 We tick the miles off, passing through Mississippi River State Park, along the ever-beautiful Crowley's Ridge Scenic Byway (where we explore a 19th-century cemetery and the survey line for the Louisiana Purchase). It's a long slog, and arriving in Helena feels like heaven. We duck into Southbound Tavern for air conditioning, a late lunch and a few beers. We talk to the co-owner, a Dallas transplant who saw potential in the slow charm of the town and has invested in quality dining and lodging options for the area. She tells us of future development coming to downtown Helena—it's looking mighty exciting for this jewel of the Delta, so stay tuned.
We leave Southbound Tavern slow and happy and, fittingly, head southbound across the mighty Mississippi and the last few miles to Clarksdale.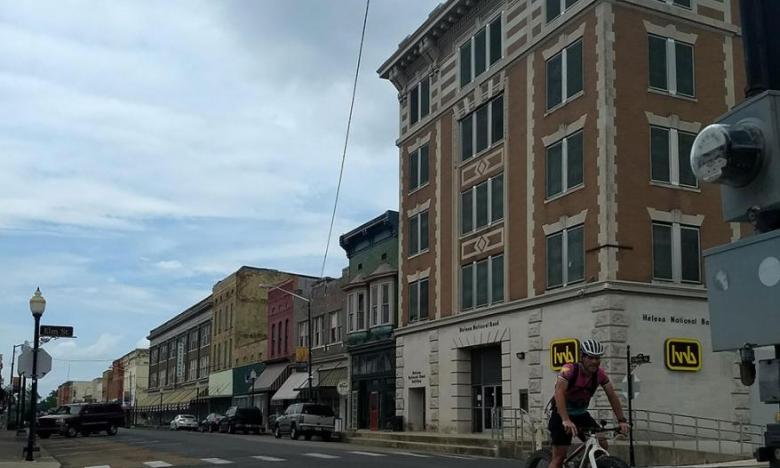 It turns out that I definitely underestimated riding in the Delta—not so much the difficulty, but the kindness and beauty to be found in the region. There's no place on Earth like the Mississippi River Delta, and perhaps no better way to experience it than behind a handlebar, moving at 10 miles an hour. Martin is still working on "The Delta Project," and I hope that someday riders from all over will be able to see, hear, feel and taste this place the way we did.