Dinosaur exhibit opens at Mid-America Science Museum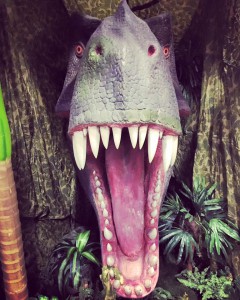 Editor's note: The event featured in this article occurred in 2016, but you'll find other great happenings on our Events page.
Jim Miller of  Mid-America Science Museum in Hot Springs has sent a news release about an upcoming exhibit opening at the museum this Memorial Day weekend.  The exhibit is called Dinosaurs Revealed and it will be at the museum throughout the summer.
According to the release, there will be "six full dinosaur skeletal replicas including a Triceratops, Tyrannosaurs Rex and Velociraptor. There are additional replicas of skulls, arms, legs, eggs, footprints and a 6-foot-1 Apatosaurus femur. Visitors will also enjoy a dig box where they can use paleontology tools to unearth dinosaur bones. In addition to the fossils that will be on display from the Arkansas Discovery Network, the museum will have lifelike animatronic dinosaurs beginning in the center of the museum's light bridge. These dinosaurs will include an adult triceratops, a Maiasaura family, a Tyrannosaurus Rex, and others which will be placed throughout galleries inside the museum. There will also be an interactive Dino Scavenger Hunt activity and special education stations throughout the interior and outside portions of the museum."
"The exhibit will begin with the fossil display and evolve into a world of lifelike dinosaur vignettes throughout the museum," said Niles Ellis, Director of Exhibits & Design at Mid-America Science, via the news release. "Visitors will be immersed in a prehistoric world with sound, lighting, and foliage so that visitors will feel like they are literally traveling back into prehistoric times."
Also of note, new  summer hours begin on Memorial Day and the museum will be open seven days a week Monday through Saturday from 10 a.m. to 6 p.m. and Sundays from 1 p.m. to 6 p.m. until Labor Day weekend. For more details, visit midamericamuseum.org or call 501-767- 3461.