Discover the crown jewel of the Buffalo National River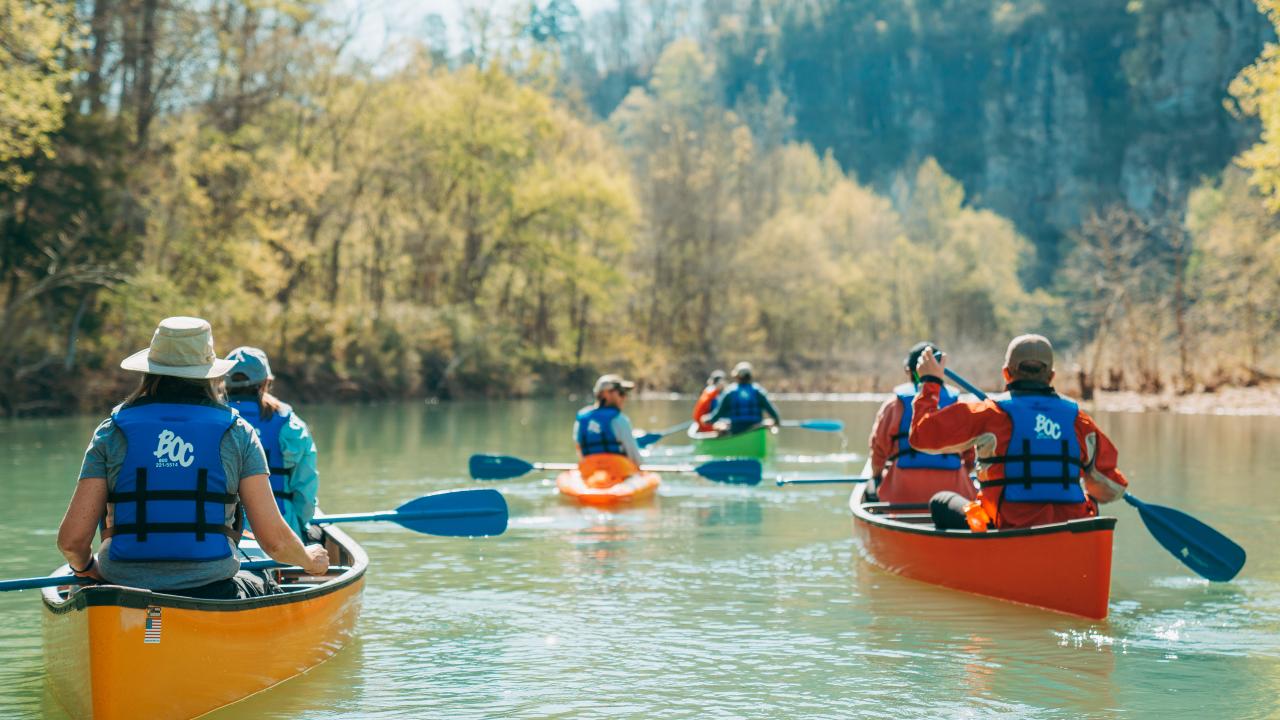 It's no secret: Arkansas is blessed with natural beauty, from primordial Ozark Mountain forests to sunny Delta bayous. In between flows the Buffalo National River, a wilderness landscape and travel adventure so singular, you don't want to miss it. (The waterway and its surrounds are so unique, in fact, that the Buffalo was designated as the country's first national river.)
The Buffalo Outdoor Center (BOC) in Ponca provides an ideal basecamp. The resorts provides easy access to the river and surrounding Ponca Wilderness. The staff knows river running, but, more than that, they know how to match outdoor adventures to every personality, whether you want to hike, zip line or do nothing but swing on the porch of your vacation cabin.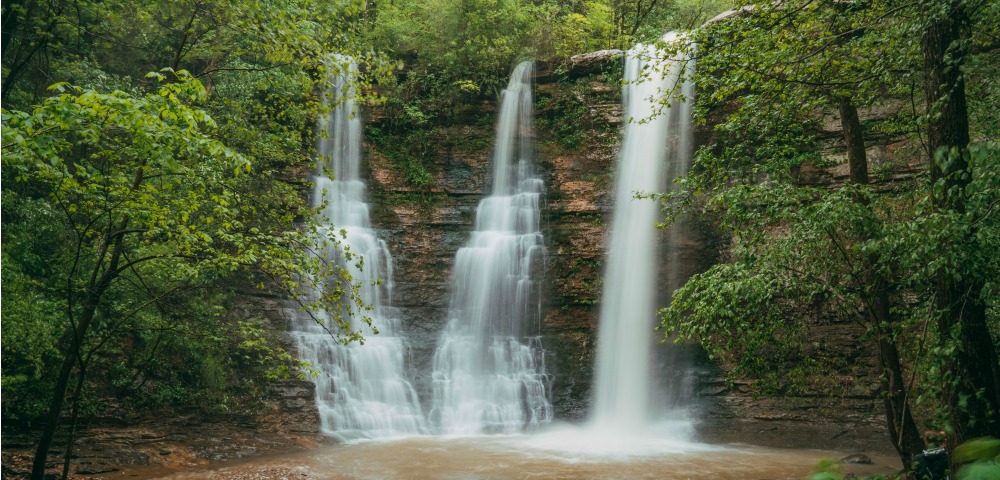 But first, float
What makes the Buffalo such a unique experience? Imagine towering rock bluffs framed with verdant foliage, islands scattered with wildflowers and butterflies, waterfalls and watchable wildlife. The Buffalo's status as a national river protects the wild, natural scene from development and disturbance—even from loud music—so the experience is as much about the tranquility as it is about the scenery.
The paddling season typically runs from March through June, depending on rainfall. In season, BOC outfits single-and multi-day trips. On a single-day trip, you might canoe, kayak or raft up to 10 miles (expect to spend four-to-six hours). On an overnight or multi-day trip, you'll choose between canoe and kayak, then consider which river path to follow. Ponca is a gateway to more than 130 miles of river trails. BOC provides maps and recommendations, rental equipment from vessels to life jackets, and shuttle service. To have your car waiting for you where you come off the river, ask the center's staff about car shuttle service.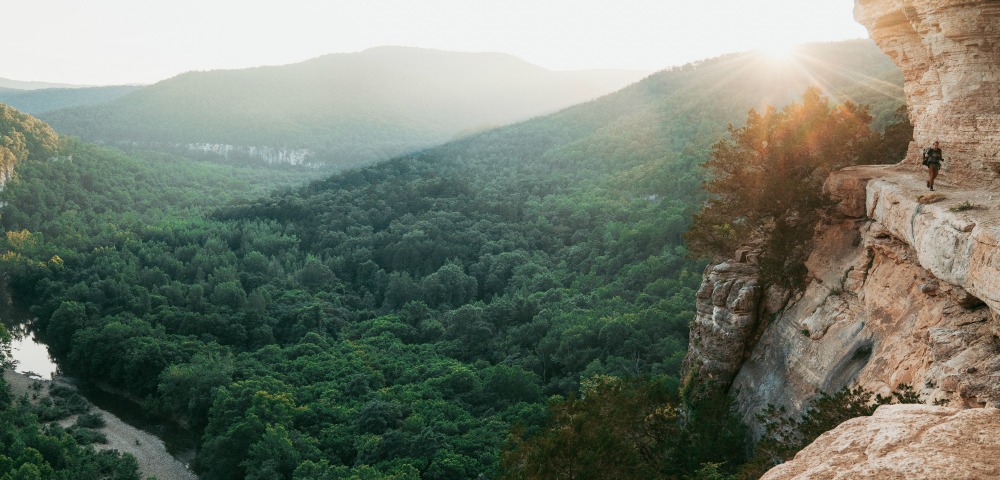 Then, hike
Now that you've surveyed the landscape from the river, gain a different perspective. Hiking trails crisscross this outdoor wonderland, and BOC puts you in close proximity to major trailheads. Chat with the center's staff to decide which trail is right for you. Maybe it's the 2.2-mile Lost Valley Trail, revealing wildflowers, waterfalls and a cave for exploring. This one's popular with families and photographers, though Whitaker Point is the most-photographed spot in the state. Depending on the season, you might view pink mountain azaleas or fiery fall leaves, a whispering creek or a waterfall as you follow the bluff line to Whitaker Point, a perch that makes you feel as though you're floating above the tree line. Ask for a challenge and BOC staff might point you to Big Bluff. The six-mile roundtrip heart-pumping hike leads to the Goat Trail, which takes you to Big Bluff. The reward, a view of the river from 350 feet up, is absolutely worth it.
​
Now, zip
If you've run the river and hiked the trails, there's still another way to experience the Ponca wilderness. On a BOC zip line canopy tour, you'll harness up, then make your way through the treetops of the Ozark Mountain forest. The tour is a fun mix of ropes course-style challenges and zip lines connected by platforms, where you can rest and recollect with your group (a two-to-three-hour experience). The course is open March through November and while it's popular with all ages, participants must be at least seven years old. Other restrictions may apply, so call the center before you go.
And finally, stay the night
Whether it's the scenery, the amount of activity or the option to do nothing at all, it's natural to linger in the Ponca wilderness. Check into BOC's accommodations; the center rents log cabins sized just right for couples and more spacious models for large families. Depending on the cabin, amenities might include a hot tub, mountain vistas, motorcycle parking or a pet-friendly policy, though the cabins' most sought-after feature might be the porch swings—the view of the morning mist shrouding the river valley is otherworldly. If you like to camp, BOC's new RV park was designed by RVers for RVers and includes smooth, level pads, full hook-ups, and a modern bathhouse. With a large group, consider the center's RiverWind Lodge. With its 30-mile view of Ponca's Buffalo National River country and room for 36 overnight guests, RiverWind is popular for family reunions, group retreats, and even weddings.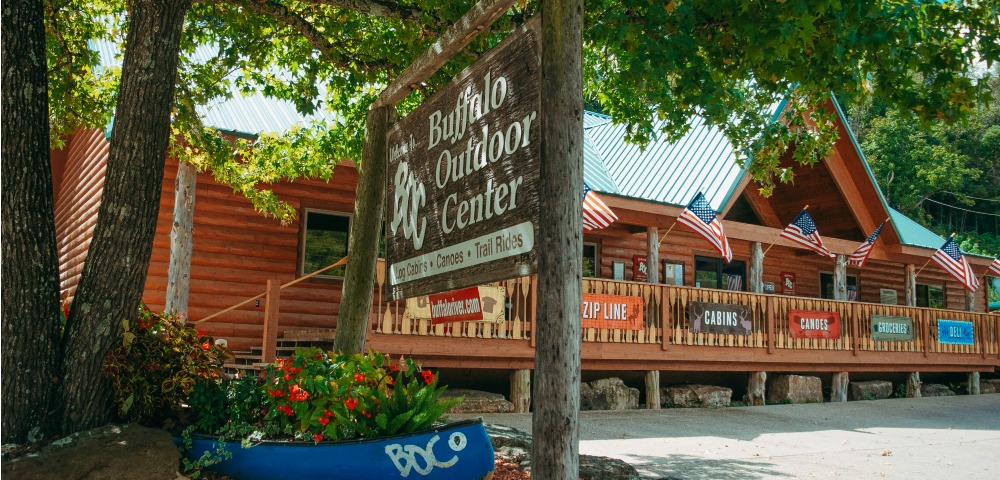 Getting to Ponca
From northwest Arkansas, Ponca is just a 90-minute drive; from Little Rock, plan about 2.5 hours. Springfield, Missouri, is an easy two hours away; Tulsa is three. You'll know you've reached Ponca when traffic disappears and the pace relaxes to mountain-town time—there's not even a stoplight here.