Distinctive Live Music Venue: Frontporch Stage in Mount Ida
Mount Ida is home to a memorable and melodic scene at the Frontporch Stage. This outdoor family friendly live music venue hosts free performances of bluegrass, gospel, country and more every Saturday night May through October. The aim is to feature bands that reflect the musical talent that can be found in the community and region.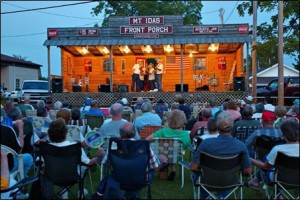 Mike Adams, one of the founding members of the Frontporch Stage, says visitors have described their experiences there "as going back in time" and a "piece of Americana." Concerts have been held at the stage for eleven years.
"Our Frontporch is here because people still come and enjoy themselves," says Jerry Babbitt, technical director for the music series. "We have made some really great friends along the way and hope to continue making friends. People have asked why we all give up our Saturday nights and I have to say it's because people come up to us and say they wish they had something like this where they come from."
"It has certainly had a positive impact on the county," Adams adds. "In economic terms it has brought a lot of returning tourists to this area that enjoy the 'time warp' and the tranquility. And in social terms it affords us an opportunity to visit with each other and get acquainted with visitors and other musicians."
The idea all started with local jam sessions. Adams transferred to Mount Ida in January of 1980 due to his job and since he was a musician, he started seeking out other performers in the area. "I was amazed at the number of good musicians and singers in these hills and played with them in living rooms, front porches, churches, 'Hee Haw' productions and any place we thought of," he says. "As long as we were playing, it didn't matter where."
Adams realized the community had a valuable artistic commodity and wanted to showcase this talent to the general public. He retired from his job in 2002 and along with a Board of Directors, started brainstorming options. The Montgomery County Frontporch, Inc. was created and with the help of County Judge Ted Elder, set up shop on the courthouse lawn. "We moved a stage in [which was a donated flatbed trailer] and bought timber and had it milled to build the 'Back Porch' concession stand and the sound booth," he says.
The first show on stage took place in 2002 and since then it has been host to around 265 shows.
"People who visit always remark how great it is to have such a wonderful place for concerts," Babbitt says. "Our courthouse lawn is spacious and there's always room for people to spread a quilt or blanket or set up a group of lawn chairs and not be crowded. First time visitors find a peaceful family atmosphere with people visiting and children at play."
His best memory from his time at the Frontporch? "I'd have to say getting hugged by country music hall of famer Jean Shepard. She came and played a wonderful show when she was seventy-four years old and it was as exciting as anything I've seen or heard."
Babbitt says the artists aren't paid and concertgoers aren't charged to attend. "The bands come to us with the understanding they are volunteers and will receive whatever the audience wishes to donate to them."
The music lineup is assembled each year in January. "[We] try to have people's favorite shows at least once," Babbitt says. "We normally will introduce four or five new shows each season."
Babbitt moved to Mount Ida from St Louis in 2002 and his mother told him about the Frontporch. He gained valuable sound production expertise while in St Louis and brought that knowledge with him when he volunteered in 2003. "As time passed the other stage volunteers sort of handed off the sound work to me," he says. "They allowed me to streamline the system and eventually put me in charge of the stage."
The possum plays a central role for Frontporch, and the little marsupial is even showcased on the logo. "Well, we have a lot of possums around here," Babbitt explains. "When this all got started there was a bunch that jammed here and one of them decided to play a joke on his wife and enlisted some of the other jammers to help. He was influenced by the Beverly Hillbillies TV show and had a sash made up with 'Possum Queen' on it, a tiara crown and a fox stole. All of this was delivered one afternoon at a jam session he was hosting at his home."
At that time the same jammer volunteers were putting their thoughts together about creating the Frontporch so 'Possums Unlimited' was invented as the fundraising group for the operation. The non-profit currently raises money by selling souvenirs from their Possum Store and food from the Backporch Kitchen.
"Every year we elect a new queen and celebrate with a coronation picnic," says Babbitt. "We must be doing it ok because we are electing our 19th Montgomery County Possum Queen this fall."
Located about 35 miles west of Hot Springs on U.S. 270, Mount Ida sits near the western end of the 40,000-acre Lake Ouachita and is surrounded by the Ouachita National Forest. The lake and the Ouachita and Caddo Rivers offer opportunity to swim, fish, sail, swim and scuba dive, while the national forest is home to hiking and biking trails, campgrounds and private resorts.
The area around Mount Ida is known for deposits of high-quality quartz crystals, and the town proclaims itself the "Quartz Crystal Capital of the World." Several privately-owned quartz mines, which allow digging for a small fee, offer a chance to take home a piece of The Natural State. For those who don't want to get their hands dirty, about a dozen local rock shops sell quartz crystal from the area. Additionally, each October Mount Ida stages the World Championship Quartz Crystal Dig and the Quartz, Quiltz and Craftz Festival.
Performances at Frontporch are from 7-9 p.m. and The Possum Picnic, where the next Possum Queen will be elected, is September 28. For more details, call 870-867-2723 or visit frontporchstage.org.