Dogwood Days Festival Hosts Danielle Colby
The City of Horseshoe Bend celebrates 50 years at its 27th annual Dogwood Days Festival on Saturday, May 11 with special guest Danielle Colby of American Pickers.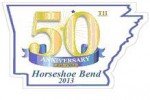 Start the day off with a Kiwanis pancake breakfast at 7 a.m. at the United Methodist Church. Or, start with coffee and donuts at the Dogwood Days Golf Tournament at 8 a.m. at Turkey Mountain Golf Course. It's a three-person scramble with a shotgun start at 9 a.m. The entry fee is $120 per team.
The Dogwood Days Festival opening ceremony begins at 9 a.m. and is followed by the Pet Pageant at 9:15 a.m. with music by DJ Doctor Steve Clark.
Kids will have tons of fun with free pony rides, Ronzo the Clown performing a magic show, Mattie the Monkey greeting kids and giving educational lessons, face painting, bounce houses, and more. Also on site will be the Arkansas Game and Fish Commission 1,000 gallon aquarium. Plenty of games and prizes are on the schedule too.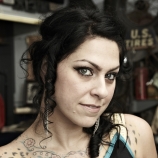 Danielle Colby from the History Channel's American Pickers will be on hand. She's the glue that holds Mike and Frank in line when they are out picking, and holds down the fort at Antique Archaeology, their base of operations. A mother of two, Colby is always working on a new creative project, whether it's painting, designing clothes or selling vintage-inspired gifts online.
More than 50 food and craft vendors will be on hand.
Additional entertainment includes: live bands on the stage playing throughout the day;  Mz. DOGwood Men's Beauty Pageant, and demonstrations by woodcarver Martin Smith. An end of the day barbecue supper take's place at the Eagle's Lodge with music by the Hwy 289 band.
If you're interested in spud guns, (and really, who isn't?), don't miss the Big Thunder Workshop and Demonstration Day, which is part of the festival fun. There will be spud gun demonstrations, and a raffle for a spud gun kit and several one-of-a-kind custom-made conversation pieces. Spud gun enthusiasts can also get free consulting for the Big Thunder State Championship in October at Turkey Mountain. Buy one or more raffle tickets and these consultants will help measure your distance and accuracy.  They will bring the official distance records just in case you think you can beat them. To keep informed about upcoming spud gun events, subscribe to the free newsletter at www.bigthunderpotatoshoot.info or email them at [email protected].
For more information about the festival, visit www.horseshoebendarcc.com, or e-mail [email protected].
Folks visiting Horseshoe Bend can enjoy fishing, hunting, golf or just a quiet walk among the wildflowers, oak and dogwoods. Known for its three beautiful lakes, this planned community offers championship golf courses, tennis courts, and bowling alley. Crown Lake boasts 650 acres of recreational activities, a full-service marina with campground, fishing and canoeing on the Strawberry River, and beautiful flora and fauna of The Natural State. You can stay in a secluded cabin in a cove, a home in the heart of downtown at a timeshare or hotels and resorts. Dining and spa facilities help round out your day.