Downtown Fayetteville Art Walk
Fayetteville has long been known for it's beautiful downtown and square. Dynamic businesses, an entertainment district, the gardens on the square and the Farmer's Market have been an appeal for decades.
Now, murals and sculptures of gnomes, bears, owls, battling deer, a peace prayer fountain and more add to the enjoyment of a visit to downtown Fayetteville. The city even has a downtown art walk.
Walk to these sites for some artsy fun, eat and drink along the way (breakfast to dinner, coffee to martinis), and take time to smell the flowers.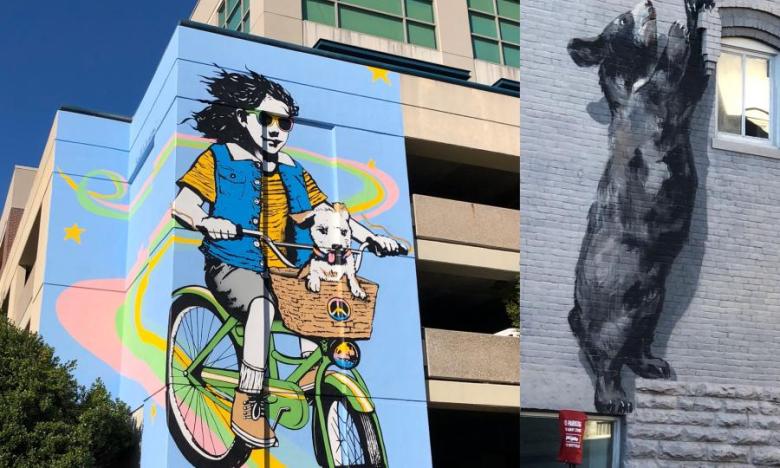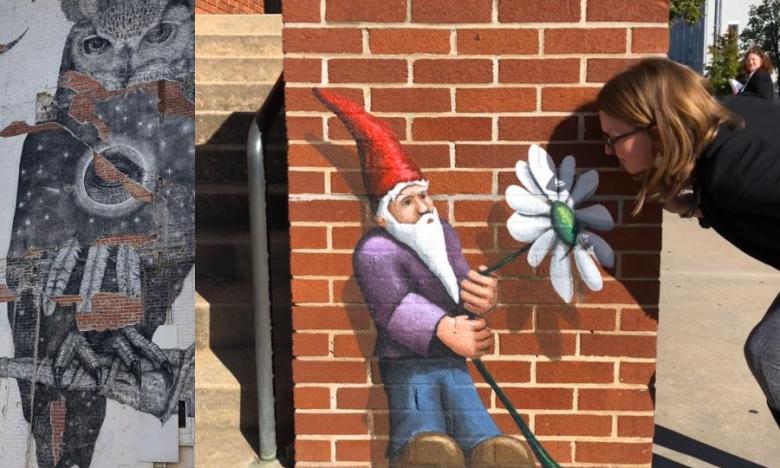 Fenix Fayetteville Mural
Octavio Logo and Eugene Sargent
Fenix Fayetteville Gallery
Collective, multiple artists
16 W. Center St.
Walker Stone House
Deer half Deer, Bordalo II
Fayetteberry, Gina Gallina
Mural, Bicicleta Sem Freio
207 W. Center St.
Experience Fayetteville
Exp Fay Mural, Olivia Trimble
Gnomes, Jason Jones
Welcome Neon, Brian Bailey
21 S. Block Ave.
BumbleBee Mural
L.A. based artist, Bumblebee
Corner of S. Block and W. Rock
Nearly Illegal
Ernest Zacharevic
1 W. Mountain, View from East Ave.
Enjoy Local Mural
Artist Jason Jones
Fayetteville Town center Plaza
15 W. Mountain
World Peace Prayer Fountain
Artist Hank Kaminsky
Fayetteville Town Center Plaza
15 W. Mountain
Owl Mural
Alexis Dias
Old Mountain Inn
College Ave. and Center St.
Fresh Air
Mural by Jason Jones
McKee Architects
545 W. Center St.
Trailside Village
Collective, Multiple Artists
546 W Center
Art Ventures
Gallery, Multiple Artists
101 W. Mountain
Almeda Riddle
Mural by Nick Shoulders
Little Bread Co.
116 N. Block Ave.
Murals at Smoke & Barrel
Aux Arc Purgatory by Nick Shoulders
Fayetteville is my Favoritesville mural by Olivia Trimble
324 W. Dickson