Eagles Et Cetera at DeGray Lake Resort State Park
Bald eagles were once endangered in all of the lower 48 states. But today the raptor, which became the national emblem of the United States in 1782, has come back. Increased awareness, protective legislation and widespread conservation efforts have assisted in the remarkable comeback.
DeGray Lake Resort State Park in Bismarck celebrates the American bald eagle and the message of conservation during Eagles Et Cetera January 25-27 at the park.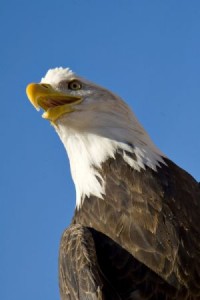 ​
"The whole reason for starting this event 34 years ago was to bring awareness to the plight of the endangered American bald eagle."
says Jason Parrie, who works as a Park Interpreter at DeGray. "Now that eagles are a recovered species we certainly want to be diligent in managing and conserving those species. But it also gives us some breathing room to highlight some other conservation success stories here in Arkansas."
Bald eagles are unique to North America. Some 1200 begin to arrive in Arkansas as early as mid-October and stay all winter long, departing around February and sometimes as late as mid-March.
An estimated 200 nesting pairs stay in Arkansas year round.
Visitors making the trek to the event, the largest of its kind in the state, can expect many opportunities to see eagles in their natural habitat.
The festival not only highlights eagles but also gives attention to birds of prey in general and also song birds, migratory birds, waterfowl, game birds, conservation practices and general lake ecology and health.
Visitors will also have a chance to see birds of prey up close.
The Little Rock Zoo will be on hand to show a variety of birds including owls, hawks, falcons, and, of course, a bald eagle. There will also be a live falconry demonstration by Master Falconer Rusty Scarborough, who will be hosting a live falconry hunt (using a hawk) during the event. Rodney Paul, a certified raptor rehabilitator, will also give a presentation featuring live rehabilitated birds.
At the end of the program, and if conditions permit, Paul will release some rehabilitated owls and possible a hawk that are ready and raring to go back to the wild.
Eagle tours will also scout DeGray Lake in search of eagles, loons, coots, herons, and other waterfowl and wildlife. Guided owl prowls and bird and woodpecker hikes are also on the lineup, along with presentations highlighting wildlife, such as an alligator presentation by Arkansas Game and Fish Commission Biologist Brandon Jacobs. He will talk about how these creatures have lived in Arkansas waters for millennia, relying on ancient adaptations that have remained largely unchanged.
​
Though eagles are no longer on the federal endangered species list (they were removed in 2007), Parrie said the message of the festival remains as vital as when they were. "Conservation doesn't just end," he said. "Just because eagles are doing well now, it doesn't mean we can stop being diligent in trying to maintain their numbers." The festival also has a broader message to spread.
"Conservation is the key word here," he said.
"It's different from preservation in that it involves the use of our resources. And that's an important concept for Arkansans because we are the Natural State and we are all about the natural resources that we have here…That's what Eagles Et Cetera is about in the bigger picture."
"Protecting and using the resources we have in a wise way so that they will be there for future generations."
DeGray Lake Resort State Park is located at 2027 State Park Entrance Road (off Highway 7) in Bismarck. All programs at the festival are free of charge, except for the Eagle Boat Tours, which are $9 for adults and $5 for kids age 6-12. Reservations are required for the boat tours and can be made by calling 501-865-5850.