Egg Artist Lorrie Popow Named 2015 Arkansas Living Treasure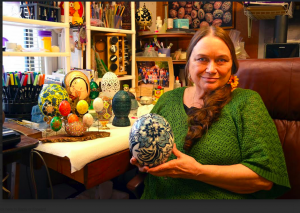 Lorrie Popow, an internationally known egg artist who lives in Hot Springs, has been named the 2015 Arkansas Living Treasure by the Arkansas Arts Council. According to a news release sent by the Arkansas Arts Council, Popow is mostly known for her work in pysanky egg art (an ancient Ukrainian form of egg art), "but specializes in all aspects of egg artistry, including carved, filigree, etched, painted and decoupage."
Popow, who moved to Hot Springs in the early 1970s, became interested in the craft when she was eight years old and living in what is now known as Ukranian Village in Chicago.
Pysanky means "to write" in Ukrainian and practitioners "write" pysanky. It became known as this because each symbol was a prayer, so prayers were inscripted on each egg. Through the years, Popow spent hours perfecting her technique and trying different dyes, waxes, eggs and other tools. She represented Arkansas with her artwork at The White House Visitor's Center in 2005 and later earned her Master of Egg Art certification from the International Egg Art Guild (IEAG).
Popow will be honored at a public reception from 5 to 7 p.m. on Tuesday, May 12, at Garvan Woodland Gardens in Hot Springs. Reservations are required to attend and those interested in doing so can call 501- 324-9766 or email [email protected] by May 8.  For more details on Popow and her work, you can read the Arkansas Arts Council story on her here.