Enjoy Dinner And A Purt Near Wunderful Life
The annual Ozark Christmas Feast and Dinner Theater, performed by Ozark Folk Center State Park staff, will be Friday, Dec. 13 at the park's Skillet Restaurant in Mountain View.
This year's dinner theater production is an adaptation of the 1946 film "It's a Wonderful Life."  The dinner theater production is adapted to highlight the Ozark culture and is titled, "It's a Purt Near Wunderful Life."
Doors open at 5:30 p.m. with a reception and the performance and dinner begins at 6 p.m.  This year's feast is in three acts.
Feast Menu and Playbill
5:30 p.m.         Reception and Meet and Greet with the Cast and Crew
6:00 p.m.         Seating, Salads and Rolls, Drinks Served
Act 1               "Clarence Gets his Assignments and Learns the Sad Tale"
Main Course    Roast Beef, Pork with plum sauce, Mashed potatoes with gravy, green beans
Act 2               "Stuck Here and Nobody Knows Me"
Dessert            Strawberry Earthquake Cake or Sweet Potato Pie
Act 3               "Wings and Bells and Choices Resound.  It's a Purt Near Wunderful Life!"
Pre-registration is required.  Cost for the dinner is $24.95 per person or $44.95 per couple.  Registration deadline is Dec. 10, 2013.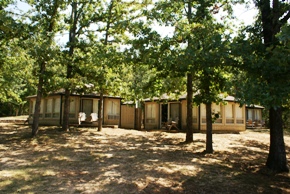 Don't forget the parks comfortable cabins at Dry Creek. You can stay all weekend for some relaxing fun and great shopping downtown. For more information, visit Ozarkfolkcenter.com or call 870-269-3851.