Enjoy the summer at Magic Springs in Hot Springs!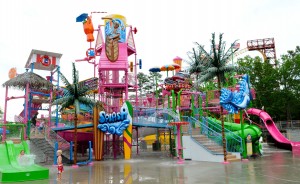 Looking for some summer fun? Magic Springs Water and Theme Park in Hot Springs is the only theme park in Arkansas and offers a chance to enjoy both rides and a water park!
A recent addition to the park, which is now open seven days a week through August 18, is Splash Island, a giant interactive water play structure.
It stands more than four stories tall and has 10 colorful water slides and a giant tipping bucket that dumps 1,000 gallons of water every ten minutes. It also has slides, bubbler jets, water wheels, water curtains, net climbs, pools and waterfalls.
Two new family shows, which are part of the park admission price, have also been added to the lineup this season and will continue through August 8.
"Pirate Adventure" features professional actors who bring Captain Anton Del Ray and his crew to life as they take over Splash Island. There are many swordfights and stunts as part of the show. Performances are at 12:30 p.m, 2:30 p.m. and 5:30 p.m. every day of the week except Tuesdays.  The group "Chill Tones" will also be traveling the park singing music. Performance times for this show are 1:30 p.m., 3:30 p.m. and 6:30 p.m.
The park, which is located at 1701 E. Grand Avenue, is well known for thrill rides. Detailed descriptions of all the rides found on-site, as well as videos from a riders perspective, can be found at magicsprings.com. There are also kids and family rides at the park too like the Rum Runner Pirate Ship, a pendulum ride in the style of a pirate ship that swings you back and forth higher with each swing.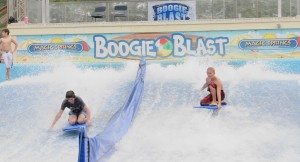 The water park portion of the park, known as Crystal Falls Water Park, includes a wave pool, body slides, tube slides, racing slides, and other rides like the Boogie Blast surf attraction. The design of Boogie Blast was created by surfers and designed to simulate the type of experience enjoyed by skateboarders, bodyboarders, wakeboarders and snowboarders. To deliver the effect, submersible propeller pumps located in the pool below the ride inject a three-inch sheet of water over the ride surface creating a surfable wave.  Adjustable speed and water flow make the ride approachable to all skill levels.
Admission to Magic Springs includes all day use of the rides and attractions in both parks ( the theme and water park). A Season Pass allows for unlimited visits to the park plus free shows at their concert series at Timberwood Theater. The concert series, which includes performances by bands such as Lynyrd Skynyrd and Everclear this year, is being held on most Saturdays through August 31.  For more information on admission prices and the park visit magicsprings.com or call 501.624.0100.