A $ensible Approach to Growing Tourism
The Arkansas Governor's Conference on Tourism, taking place March 3-5 in Hot Springs, provides the perfect opportunity to gain information to help your tourism industry business. For example, the panelists for the Tuesday session, "A $ensible Approach to Growing Tourism," are Todd Herman of the Arkansas Arts Center; Sandy Edwards from Crystal Bridges Museum of American Art; and, Bob Bledsoe with Garden Woodland Gardens.
These three panelists represent excellent destinations in The Natural State and thus have a great perspective to share.
*The Arkansas Arts Center in Little Rock is a dynamic center for the arts. It features a museum with an outstanding collection of international art. The strength of the collection is works on paper with an emphasis on drawings and contemporary craft objects. It also includes paintings, sculpture and the largest U.S. repository of watercolors and drawings by 19th century artist Paul Signac. The AAC also features the award-winning Children's Theatre, art classes and public programs. In addition, the AAC offers touring programs for communities, such as Children's Theatre on Tour, the Artmobile and traveling exhibitions.
The Arkansas Arts Center is one of those rare institutions that combines the visual arts, theater and museum school under one roof. By design, the goal of the Arts Center from the beginning was to offer a place where creativity, individual expression and arts education had a home and could flourish. This was expanded to include the State Services Program which brings theater productions and art exhibitions/education to schools and communities throughout the State of Arkansas. The 2012-2013 season at the Arkansas Arts Center celebrates the 51st anniversary of the AAC. Through its museum, collection, children's theatre, museum school and state services program, the arts center has had an impact on this community and state over the past 50 years.
*Crystal Bridges Museum of American Art opened 11-11-11 in Bentonville and welcomes all to celebrate the American spirit in a setting that unites the power of art with the beauty of landscape. The museum explores the unfolding story of America by actively collecting, exhibiting, interpreting, and preserving outstanding works that illuminate this nation's heritage and artistic possibilities.
Crystal Bridges is building its permanent collection through the efforts of its professional staff as well as important gifts from private collectors such as Alice Walton and others. The collection features American masterworks dating from the Colonial era to contemporary times and will be on view to the public year-round. The museum also displays a changing array of special exhibitions featuring art from museums and collections throughout the region, the nation, and abroad, such as the Norman Rockwell exhibit opening on .
Surrounded by 120 acres of forests and gardens, Crystal Bridges offers a revitalizing environment for experiencing art and cultural events. The grounds are a place of natural and artistic beauty, equally suited for quiet reflection and exploring with family and friends. Six pedestrian and multi-use trails wind through the campus, connecting the surrounding neighborhoods, parks, and downtown Bentonville to the Museum.
As a place of community, Crystal Bridges is designed to create connections – to art, to nature, and to others. Our educational programs bring to life works of art for guests of all ages. Annual events and festivals bring families and individuals together for new experiences. In addition to expanding access to art and learning resources, Crystal Bridges has far-reaching economic and cultural impact for Northwest Arkansas.
*Garvan Woodland Gardens in Hot Springs is the botanical garden of the University of Arkansas. Nestled in the picturesque Ouachita Mountains of southwest Arkansas, the gardens are a wonderful gift to all people from local industrialist and philanthropist Verna Cook Garvan.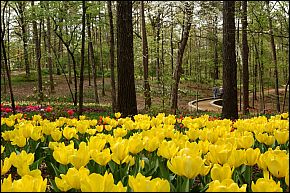 Garvan Woodland Gardens is an example of The Natural State at its best: a canopy of pines reaching skyward providing protection for delicate flora and fauna, gentle lapping waves that unfold along the four and a half miles of wooded shoreline, and rocky inclines that remind us of the surrounding Ouachita Mountains.
Garvan Woodland Gardens' mission is to preserve and enhance a unique part of the Ouachita environment; provide people with a place of learning, research, cultural enrichment, and serenity; develop and sustain gardens, landscapes, and structures of exceptional aesthetics, design, and construction; and partner with and serve communities of which the Gardens is a part.
From the dynamic architectural structures to the majestic botanical landscapes, Garvan Woodland Gardens offers breathtaking sights and fantastic photo opportunities at every turn.
Click here to register for the Arkansas Governor's Conference on Tourism.
*information from their websites