Eureka Springs Blues Weekend 2014
The 2014 Eureka Springs Blues Weekend is coming up June 12-15. Big name headliners for this year are Chubby Carrier, Carolyn Wonderland and Walter "Wolfman' Washington.
The Blues Weekend features local, regional, national and international blues acts. Venues all over the city participate. Headliner shows are in the historic City Auditorium with late night shows in the Barefoot Ballroom on the top floor of the 1905 Basin Park Hotel and at clubs around town. Free music is offered in Basin Spring Park on Friday and Saturday afternoons.
Also performing: The Ariels, Blew Reed, Brick Fields, Brody Buster, Danny Cox, Jesse Dean, Doghouse Daddies, Earl & Them, Larry Garner, Steve Hester, Jeff Horton, Jigsaw Mud, Adam Johnston, Kris Lager, Levee Town, Stacy Mitchhart, Moreland & Arbuckle, Fast Johnny Ricker, Brandon Santini, Buddy Shute, Lucious Spiller, Patrick Sweany, Tightrope and Isayah Warford & His AllStars.
Additional venues: Chelsea's, New Delhi, Pied Piper & Cat House Lounge, Rockin' Pig Saloon, Rowdy Beaver & The Beaver Den, Turpentine Creek Wildlife Refuge and Voulez-Vous Lounge.
Blues Weekend is a fundraiser for Turpentine Creek Wildlife Refuge, located just south of Eureka Springs. Turpentine Creek gives lifetime refuge to abused, neglected or abandoned wildlife, and is constantly building new natural habitats as funding permits. For more information, TurpentineCreek.org.
Weekend Passes and tickets are on sale at EurekaSpringsBlues.com. Hotel and ticket packages are also available at the 1905 Basin Park Hotel and Grand Central Hotel.
For tickets, a complete schedule, to volunteer or for more information, please visit EurekaSpringsBlues.com.
About the Headliners:
Chubby Carrier is "The World's Premier Zydeco Showman." Born in Churchpoint, Louisiana, Chubby is the third generation of zydeco artists with such famous relatives as Roy Carrier (father), Warren Carrier (grandfather), and cousins Bebe and Calvin Carrier who are presently considered legends in zydeco history. Chubby began his musical career at the age of 12 by playing drums with his father's band. He began playing the accordion at the age of 15. By age 17, Chubby had begun to play with Terrance Siemien and toured the world for 2 1/2 years, before forming his own band in 1989.  Chubby Carrier and the Bayou Swamp Band have recorded ten CDs over the past 22 years of Chubby's professional career. His band has traveled all over the world, performing to audiences in all parts of the United States, Canada, North Africa and Europe. Chubby and the band travel 150-175 days a year, taking his act to big festivals such as the New Orleans Jazz Fest, the Chicago Blues Fest, Memphis in May, and several festivals in Europe.
Carolyn Wonderland is a musical force equipped with the soulful vocals of Janis and the guitar slinging skills of Stevie Ray. She reaches into the depths of the Texas blues tradition with the wit of a poet. She hits the stage with unmatched presence. Carolyn grew up the child of a singer in a band and began playing her mother's vintage Martin guitar when other girls were dressing dolls.  Wonderland went from being the teenage toast of her hometown Houston to sleeping in her van in Austin amid heaps of critical acclaim for fine recordings like Alcohol & Salvation, Bloodless Revolution, and most recently, Miss Understood. Along with the guitar and the multitude of other instruments she learned to play — trumpet, accordion, piano, mandolin, lap steel — Wonderland's ability to whistle remains most unusual.
Walter "Wolfman" Washington has been an icon on the New Orleans music scene for decades. His searing guitar work and soulful vocals have defined the Crescent City's unique musical hybrid of R&B, funk and the blues since he formed his first band in the 1970s. Washington began his career during the fertile heyday of the 1950s Rhythm and Blues period that spawned dozens of Number 1 songs and made New Orleans the recording destination of choice for hit makers like Ray Charles and Little Richard. Born in 1943, Washington was on the road by his late teens spending over two years backing the great vocalist Lee Dorsey who was touring in support of his smash hits, "Ride Your Pony" and "Working in a Coalmine." He played with New Orleans legends Irma Thomas and David Lastie, then toured for years with the late, great Johnny Adams.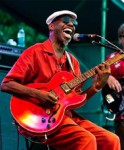 (Musician descriptions from press release.)