Eureka Springs Blues Weekend is June 13-16
Put on your dancing shoes! It's time for the Eureka Spring Blues Weekend on June 13-16. This annual event features local, regional, national and even international blues acts at various venues throughout Eureka Springs, including The Auditorium, Basin Spring Park, The Basin Park Hotel's Barefoot Ballroom, and Turpentine Creek Wildlife Refuge.
Tickets are on sale now, although the music kicks off on Thursday, June 13 with free performances in Basin spring Park from noon until 6 p.m. You can catch free music in the park, which is located downtown on Spring Street, from noon to 6 p.m. on Friday and Saturday too.
Ticketed shows start Thursday evening at 9 in the 1905 Basin Park Hotel Barefoot Ballroom with multiple Blues Music Awards winners Victor Wainwright & The Wildroots. A singer and pianist, Wainwright is known as a raucous, high-octane, dynamic performer and crowd pleaser with soul to spare.
Eugene "Hideaway" Bridges plays Friday night at The Auditorium followed by BMA Winner, The Nighthawks. They have opened for Muddy Waters and Stevie Ray Vaughn, and have headlined festivals all over the world.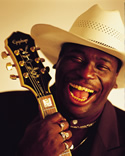 The Basin Park Ballroom heats up Friday night with multiple BMA Winner The Cedric Burnside Project. Burnside is the grandson of North Mississippi blues legend R.L. Burnside and the winner of the BMA "Best New Artist Debut." After years of touring the world with Lightnin' Malcolm as 'the Juke Joint Duo', Burnside started a new band: The Cedric Burnside Project.
In conjunction with the Ozarks Blues Society and the Blues Society of the Ozarks, George Hunt will present the third annual "Blues for Kids" Harmonica Blowout Saturday at noon in Basin Spring Park. Harmonicas will be given to the first 50 kids to join the fun.
Saturday afternoon at The Auditorium features Ozarks Blues Challenge Winning Solo Artist  Buddy Shute; Ozarks Blues Challenge Winning Band  Leah & The Mojo Doctors; BMA Winner ED Kight; and, Grammy winning Blues legends, The Chicago Blues Revue.
Taking the stage Saturday night in the Basin Park Ballroom is JP Soars and the Red Hots. Others performing throughout Blues Weekend include The Ariels, Baby Jason, Blew Reed & The Flatheads, Blue Krewe, Brandon Santini, Brick Fields, Brody Buster, Brother Bagman, Chad Emmert, Cutty Rye, The Doghouse Daddies, Earl Cate & Them, Gone Was Here, Isayah's AllStars, The Jones Brothers, Jones van Jones, Justin Cauble, Laurie Morvan, Levee Town, Nathan A, Randy Beach, RJ Mischo, Shawn "Lil' Slim" Holt, Steve Jones, Terry Evans, Terry Quiett Band, Tony Trahan and more.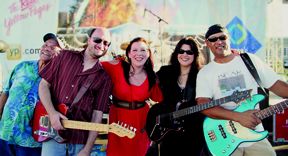 The weekend wraps up with a Father's Day Blues Picnic on Sunday from 1 p.m. to 6 p.m.at Turpentine Creek Wildlife Refuge, located on Ark. 23 South. In addition to great music, including an all-star jam consisting of several bands, there will be food, refreshments, activities for kids, and kite flying with Kaliedokites.
For details about Blues Weekend visit www.eurekaspringsblues.com.