Eureka Springs Blues Weekend is June 15-18
Editor's note: The event featured in this article occurred in 2017, but you'll find this and other great happenings for the current year on our Events page.
The Who's Who of Blues will be playing in Eureka Springs June 15-18 for the annual Blues Weekend.
Headliner shows are on Saturday and Sunday afternoons and early evenings at the main festival stage located at Turpentine Creek Wildlife Refuge. Refuge blues will include: Tom Baker's Blues Harmonica for kids, Nick Schnebelen Band, Fiona Boyes, Toranzo Cannon, Sister Lucille, Brick Fields Gospel Brunch, EG Kight, and an All Star Jam. Click here for schedule details.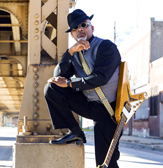 This venue offers free parking, fun things for kids to do, and food and drink. Shows end just before dark, giving everyone time to head downtown for late-night sets.
Victor Wainwright plays two shows at the 1905 Basin Park Hotel Barefoot Ballroom. Catch the 8 p.m. or 10 p.m. set, plus an after-party "Meet and Greet" with Wainwright at the Lucky 7 Bar. Admission to the 8 p.m. show is included in the hotel's VIP Weekend package.
Chelsea's Corner Café & Bar has the Scott Ellison Trio booked for 9 p.m. on Thursday. On Friday at 6 p.m. is Josh Hoyer & Soul Colossal  with Patrick Sweany at 10 p.m. Music starts at 2 p.m. Satuday with the Brick Fields Band followed by Katie & The Girls at 6 p.m., and Patrick Sweany at 10 p.m. Sweany plays again at 2 p.m. on Sunday.
Event Eureka hosts The BelAirs at 7 p.m. on Saturday. Blues bands will also play at New Delhi, The Pied Piper & Cathouse Lounge, Rockin' Pig Saloon, Rowdy Beaver, and The Rowdy Beaver Den. Artists have yet to be announced for those locations.
Weekend passes and daily tickets are available for the main stage performances at Turpentine Creek. Click here for ticket information and online purchase. Downtown venues have their own admission fees, although some locales are free.