Eureka Springs Paranormal Weekend Is Jan. 3-6
ESP Weekend is set for Jan. 3-6 at the 1886 Crescent Hotel & Spa in Eureka Springs. If this event doesn't warm you up and get your blood pumping on a winter's night, you might need to check whether you are the ghost or ghost hunter.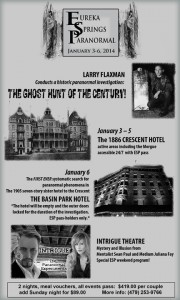 The weekend consists of a 48-hour ghost hunt in one of the most haunted buildings in the country. The Crescent Hotel is known as a place where some guests check out but never leave. Paranormal investigators are encouraged to bring their equipment and stay up all night investigating the most active areas of the hotel, including the morgue with a special ESP pass.
The morgue has been restored to its original square footage, and the area now also includes an additional room with displays and a mini-theatre.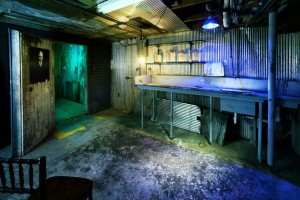 A few unique events are planned as well. Larry Flaxman will conduct a historic paranormal investigation. Mentalist Sean Paul and Medium Juliana Fay of Intrigue Theatre will give a special performance as well.
All levels of experience attend. Newbies can learn from the pros, mingle, and make connections. Everyone can share stories and experiences with other explorers of the supernatural and unexplained.
As usual, packages will include premium rooms, great food, entertainment, informational presentations by guest speakers and opportunities to meet ghost hunters from around the country. Call 479-253-9766 or email [email protected] for event and package information.  Visit www.americasmosthauntedhotel.com for additional details. The hotel is located at 75 Prospect Ave.