Experience A Festival of Magic!
Maxwell Blade's Festival of Magic is September 24-27 in Hot Springs! Performances are set to be held mostly at Maxwell Blade's Theatre of Magic with some shows and galas being held at the Hot Springs Convention Center and other venues in the city.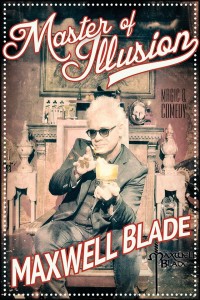 Illusionist Maxwell Blade has been performing in Hot Springs for around two decades at the theater he owns, which is located at 121 Central Avenue. An extension next door to the theater recently opened called Maxwell Blade's Museum of Oddities and Curiosities, which houses over 300 unusual items from around the world.
Blade has invited performers from around the world to take part in the festival, which includes performances as well as lectures and workshops. Among the performers on the lineup are Bizzarro the Optical Illusionist, Jeff McBride (who was named Magician of the Year by The Academy of Magical Arts), local magician Scott Davis and many more. For more details on the schedule and ticket information, check out the festival's Facebook page here or the festival website here.  A peek at the complete lineup can be found here.  Enjoy!