Sponsored Article
Experience the New North Basin RV Park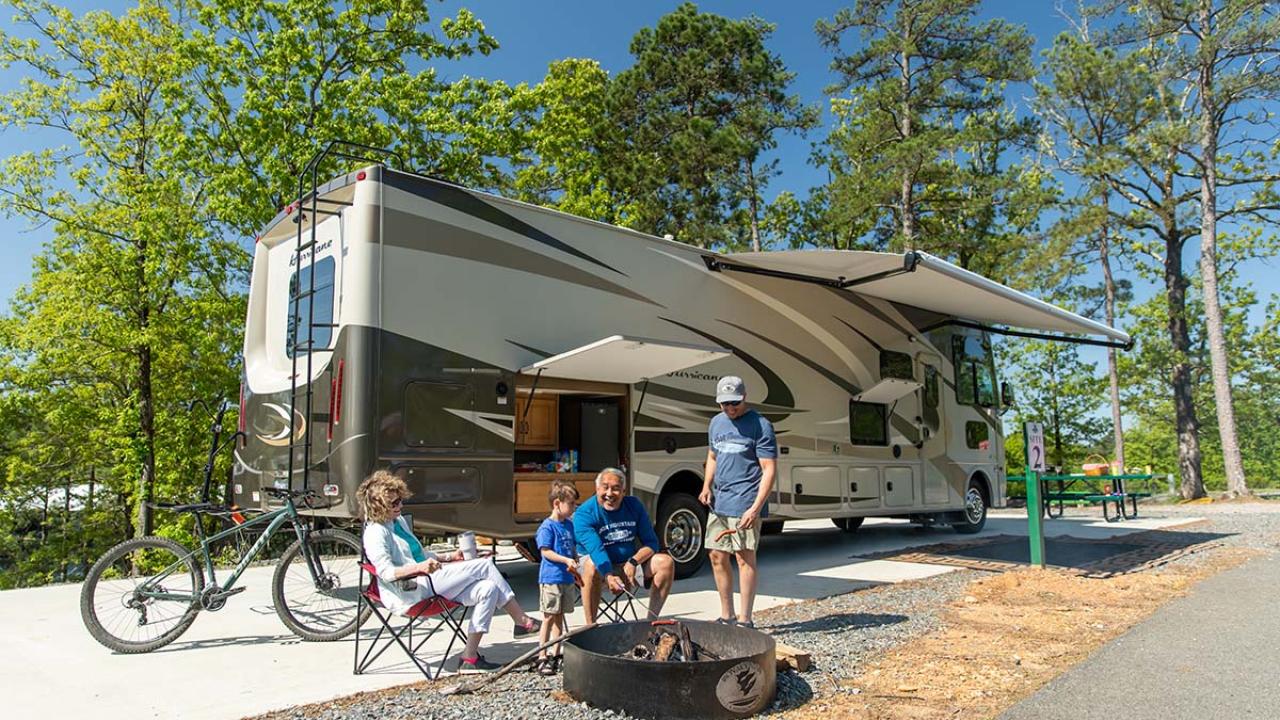 Retreat to Iron Mountain Lodge & Marina, a family-owned Arkansas resort located on the beautiful shores of DeGray Lake. Spread out over 130 acres within the foothills of the Ouachita Mountains, you'll find a full-service marina, access to the Iron Mountain Trail, DeGray Lake's only lakeside cottages and the brand-new North Basin RV Park.
With 17 fully equipped RV sites that feature almost 360° views of DeGray Lake, every single site allows you to take in the surreal beauty of the lake and surrounding Ouachita Forest from both sides of the RV park. This allows you to have the unique experience of waking up every morning just steps away from clear, blue shores. It is an absolute treat to have your morning coffee and breakfast next to calming water as the green oasis of oak, pine and hickory trees sway in the breeze all around. You might even spot a heron gliding over the water or see a bald eagle soaring overhead. It is a true paradise.
While you're staying at North Basin RV, you'll get to take advantage of the brand-new bathhouse with walk-in showers and even a new laundry facility with multiple washers and dryers. Each RV site has a very large pass of 60 feet and features all the major utilities – electric, water and wastewater. You'll even have wi-fi access. Near your site, you also have the added luxury of boat ramp access and an extra parking lot to store your trailer and boat – so you don't have to crowd your RV site. Eventually, North Basin will also feature a dock just for RV visitors, making your lake experience that much more enjoyable.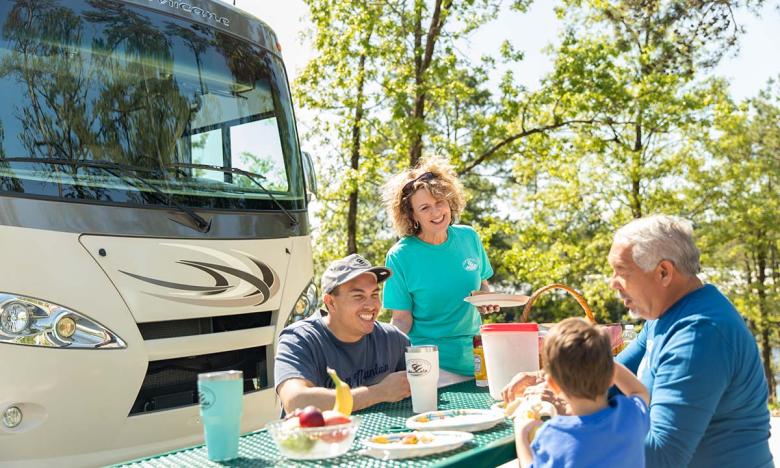 A day on the lake
After settling into North Basin RV Park, head to Iron Mountain Marina, the largest marina on DeGray Lake with space for more than 600 boats and one of the largest covered docks and floating structures in Arkansas – the mighty S-dock, coming in at just under 1,300 feet long.
Find everything you need at the newly renovated marina store. Stock up on ice and food. Fuel and tackle. Scuba air refills. Buy sportswear and fun DeGray Lake souvenirs, water toys and all marina necessities. Courteous and professional marina resort staff will assist you with pontoon rentals, boat rentals and watercraft needs. Rent a 26- or 30-foot party barge to explore all corners of the 13,500-acre lake.
Elevate the fun with skiing, tubing, wake boarding or watch exciting sailboat races. If you wish to take things slower, rent a two-person kayak to explore the rocky shores. For those who love to fish, make sure to bring your rod and reel because hybrid bass, bream and crappie are abundant at DeGray Lake. Take a guided fishing excursion with resident Iron Mountain fishing guide John Duncan, who will be happy to show you all the best fishing holes. And if you want to try something unique, spear fishing for bass and crappie is extremely popular on DeGray Lake.
For more time out on the water, checkout DeGray Houseboat & Jet Ski Rentals on A-dock. House boating is big on DeGray Lake, with dozens of coves where people can park their boat.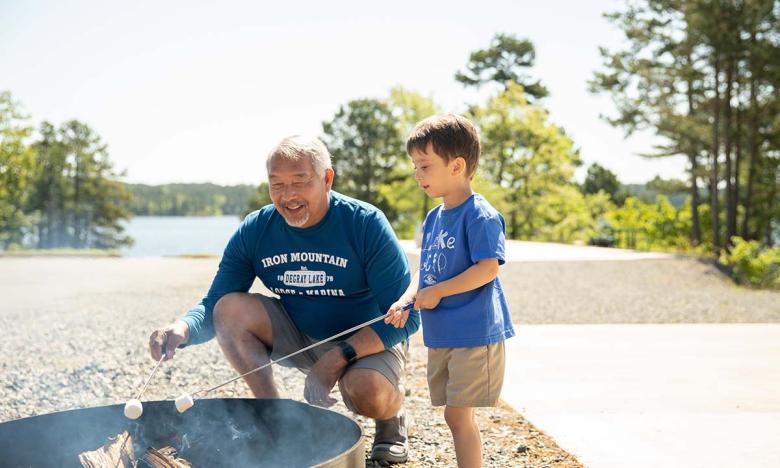 Opportunities for adventure
Take advantage of instant access to world-class fishing, water sports and outdoor adventures near Iron Mountain. Head out to one of the beach areas to go swimming, play games and have a picnic. If on a boat, seek out one of the many coves and outlets on DeGray Lake. You also have access to 32 miles of biking and hiking trails across six unique loops on the Iron Mountain Trail.
After a day of making memories, hang out around the picnic table and chow down on juicy burgers and hot dogs as the sun sets over the lake. Sit around the firepit and roast some s'mores under a beautiful starry sky. Then, wake up the next day and do it all over again! Explore new areas of the resort, try delicious local food in Caddo Valley and Arkadelphia, or simply kick back with a good book and family all around.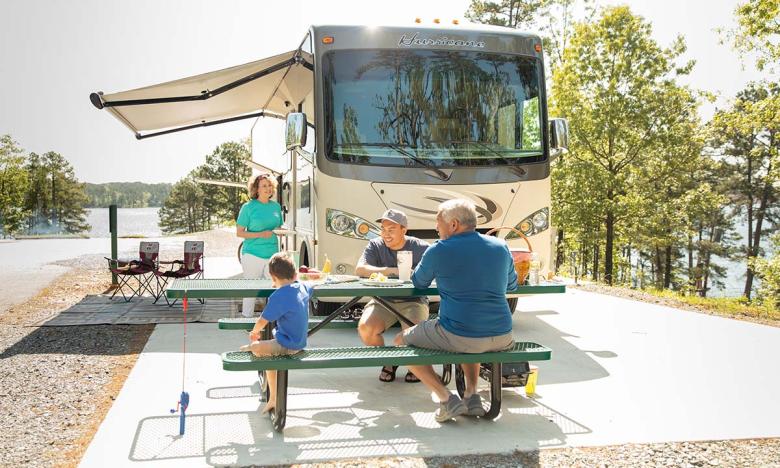 More ways to stay
Bring the whole family to the RV Park or settle into one of the magnificent two-bedroom two-bath or three-bedroom three-bath cottages at Iron Mountain. Each is uniquely decorated and offers the finest in lake lodging, with fully equipped kitchens, satellite TV, Wi-Fi, native stone fireplaces and spacious decks – all with large hot tubs, charcoal grills and many with great lake views!
If you're looking for the ultimate destination for your next family road trip, reunion or couples retreat, look no further then the superb accommodations, amenities and hospitality that Iron Mountain Lodge & Marina provides to every guest. You are sure to feel at home and have fun in no time.
Reserve your dream RV site and plan your next family vacation at Iron Mountain Lodge & Marina.