Explore Arkansas's Outdoors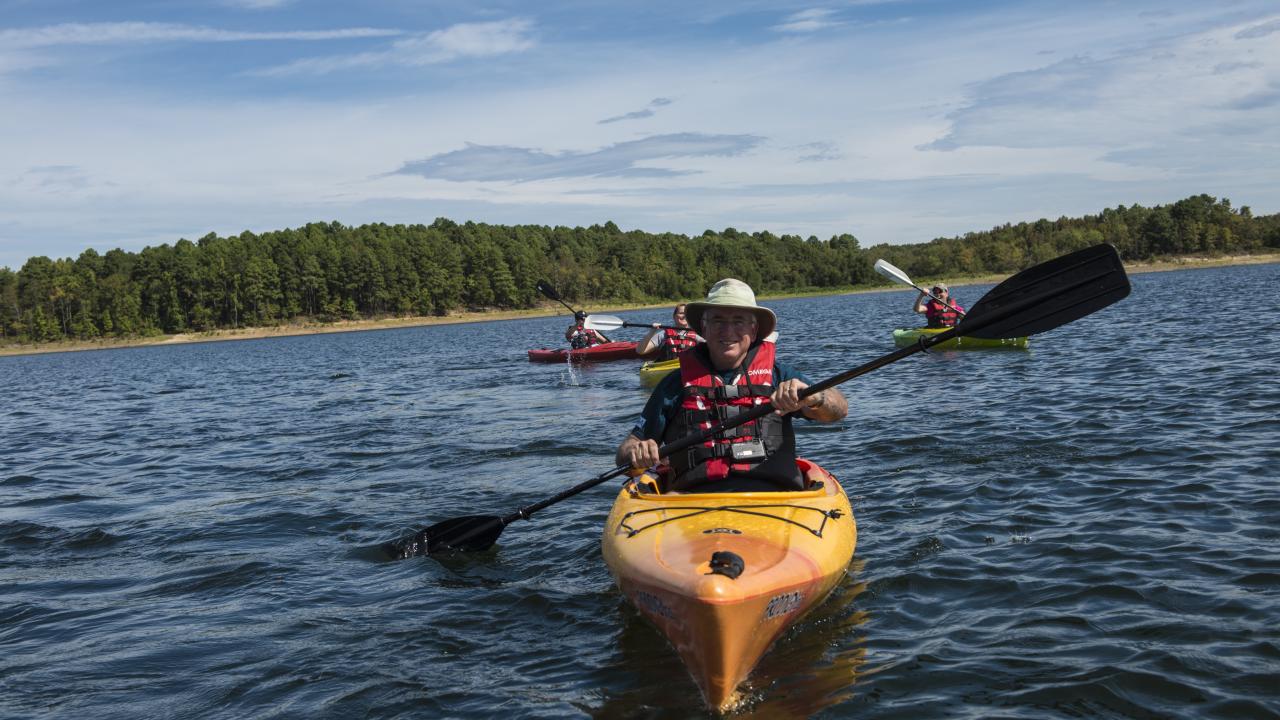 This month we are celebrating the outdoors and what better place to do that than in Arkansas the Natural State with 52 state parks and numerous other great places around the state that invites you to discover some of the most iconic and beautiful natural landscapes in the nation.  
My love for the outdoors has been part of my fabric and lifestyle since I was very young. I grew up on the beaches of Brazil and spent almost all my summers camping, surfing and snorkeling in the Atlantic ocean. I spent years catching waves that challenged my ability, stamina, and sense of adventure. We surfed in a style that we called soul surfing. Soul surfing was riding a wave and really connecting to its movement, force, and flow. Not hotdogging the wave, but simply being part of the wave. This connected me to the wave on a very personal level. It impacted my mood and my outlook by discovering the force and beauty of nature. That became part of who I am today.  
What I have discovered over the years is just being outdoors and seeking an adventure is healing and necessary to maintain a true balance in life.  
The outdoors is a time that I can connect with what is important in life, to think clearly about family, job, friends, family and spiritual matters.  Being in nature has allowed me to better understand myself and to accomplish and solve challenges that have tested me. 
I define being outdoors to a simple walk in the woods, in a park, around the block, rock climbing, running, walking the dog, playing hopscotch with the grandkids, sitting under the stars and taking in the heavens, around a campfire with friends, camping, kayaking, canoeing, cycling, riding horse — you get my point, just basically being outside as often as possible and doing what you enjoy. The wonderful part of all this is that everything I just described is available in Arkansas and you can be part of it.  
Getting outdoors is a vital part of the quality of life. I believe this is true for everyone. For example, having the opportunity to be outdoors are what drive people to live in certain cities, geographic regions, make travel decisions, determine what neighborhood to live in and what college to go to. All this is based on the opportunity to be part of the outdoor experience. I see this more and more when I visit with a younger generation that is looking at where to live before deciding on a job. The quality of an outdoor experience is now an integral part of what attracts a young and talented workforce.  
My primary activity for outdoor adventure is mountain biking. I look at mountain biking as a physical challenge, a way to stay fit, a way to unplug from what is happening in other areas of my life, a way to be part of an active group of people, a social event, a relationship building opportunity and especially a way to recharge my inner batteries. 
My best rides are just like soul surfing, now surfing the dirt and soul riding. Connecting with the flow of a single track trail, its speed and maneuvering my bike through nature with a sense of connecting to what is around me. So often I will stop riding just to take in all that surrounds me. The trees, the creeks, flowers, birds chirping and other wildlife that are so vibrant in our natural areas.  
Outdoors equals an adventure of discovery and finding a true sense of place both geographically and in a very personal sense.  I believe each person should pick an activity they enjoy outdoors and really focus on doing that as often as possible. It is good for the soul. By being outdoors often, it makes me a better person.