Explore Beyond the Range of Normal on Sept. 26 in Little Rock
Are you ready to learn about the unknown? Then dare to be scared – or at least a little freaked out — at the 5th Annual Arkansas Paranormal Expo, to be held Sept. 26 at the MacArthur Museum of Arkansas Military History.
The event begins at 9 a.m. and is a benefit for the museum, housed in the historic 1840 Tower Building and listed on the National Register of Historic Places. The structure in Little Rock's downtown MacArthur Park is famous for being the birthplace of General Douglas MacArthur.
The expo is even larger this year with more vendors and speakers. Topics of discussion include UFOs, Bigfoot, spiritual warfare, the supernatural, book authors, psychics/mediums and paranormal investigations. Presenters include Alan Lowe, author, folklorist and ghost hunter; psychic Carol Pate; Adrian Scalf, co-founder of River Valley Paranormal Research & Investigations; Rick Marshall, co-founder of Paranormal Ozarks Investigations; Robert Swain, Bigfoot field researcher, and Royce Fitzgerald, co-founder and co-host of "Eye Witness Radio" and "Global Radio Alliance."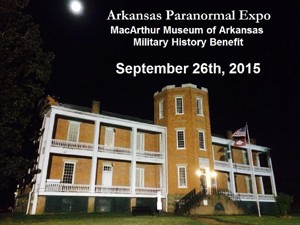 Raffle items such a Kindle Fire, gift certificates and baskets, books, and tickets for Haunted Tours of Little Rock will be offered. The U.A.M.S. College of Pharmacy will give free health screenings. All proceeds from the raffle plus admission and vendor's fees will be donated to the museum.
A list of subjects to be discussed and times of the presentation are available on the expo website. Information on the vendors is available on the site as well. The Southern Salt Food Company and The Pie Hole food trucks will be serving their specialties.
General admission is $5 per person with children under ages 12 admitted free.