Explore Northwest Arkansas: the perfect mix of nature's sights and urban delights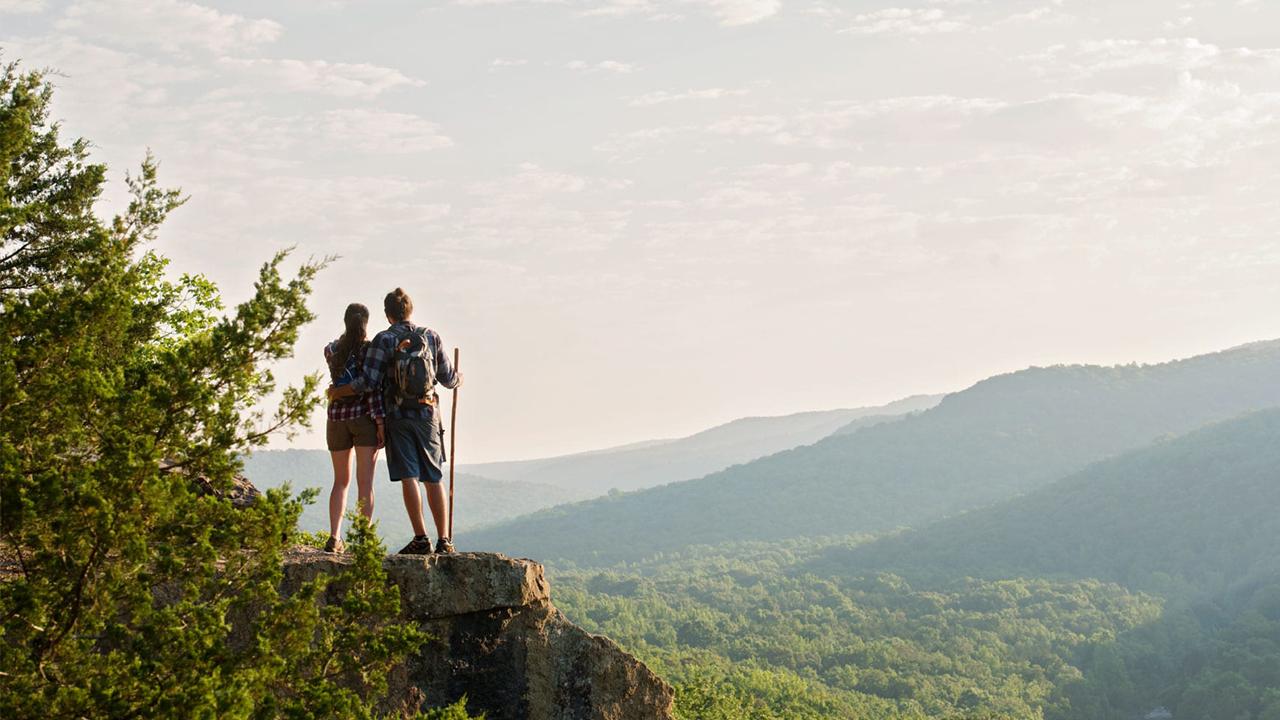 In Northwest Arkansas, there's almost no limit to the things you can explore and experience: Distinctive downtowns. World-class art. Adrenaline-pumping outdoor adventures. Award-winning cuisine. Bountiful farmers markets. Colorful street festivals. And a seemingly endless number of events offering top-notch entertainment. Whether you're planning a solo adventure, romantic getaway or family vacation, Bentonville, Bella Vista, Berryville, Eureka Springs, Fayetteville, Holiday Island, Huntsville, Rogers, Siloam Springs and Springdale look forward to welcoming you!
Perhaps the ultimate Northwest Arkansas experience is riding our internationally ranked bike trails. Cities across the region boast premier cycling trails and amenities, such as the Railyard Bike Park in Rogers, Little Sugar Trails and The Back 40 in Bella Vista, Lake Leatherwood downhill runs in Eureka Springs, Fitzgerald Mountain trails in Springdale, plus Bentonville's Slaughter Pen trailhead and Coler Mountain Bike Preserve – home to more than 17 miles of flow, cross-country, rock, dual slalom, and flyover trails. Fayetteville's state-of-the-art Centennial Park has hosted international championships at its cyclo-cross and mountain biking facility.
Outdoor enthusiasts have easy access to lakes, rivers and state and national parks in Northwest Arkansas. Water-lovers will be right at home with fishing, sailing, swimming, scuba diving, tubing, water skiing, wakeboarding, canoeing and kayaking–the possibilities are truly endless! Paddle the rapids on the scenic Illinois River at the Siloam Springs Kayak Park, or float the nearby Buffalo River–America's first national river. Enjoy fishing, boating and water sports on Beaver Lake and Kings River, or visit Devil's Den State Park and Hobbs State Park-Conservation Area. Holiday Island is the perfect basecamp to explore Table Rock Lake. Blue Spring Heritage Center in Eureka Springs gives visitors a chance to explore a beautiful natural spring. And Huntsville is home to many beautiful waterfalls, including Sweden Creek Falls–the 8th largest waterfall in Arkansas.
Northwest Arkansas also offers a vast array of sporting activities. Minor league baseball fans will love watching the Northwest Arkansas Naturals take the field at Arvest Ballpark in Springdale. In Fayetteville, the Arkansas Razorbacks attract fans to the state's flagship campus for football, basketball, baseball and other SEC Division I sports. In Rogers, the Walmart NW Arkansas Championship LPGA tournament brings top female golfers from all around the world to compete.  For a spectator experience that will have you cheering right out of the chute, Sky High Arena in Huntsville hosts the annual Madison County IPRA Rodeo, which draws the country's best riders, ropers and clowns.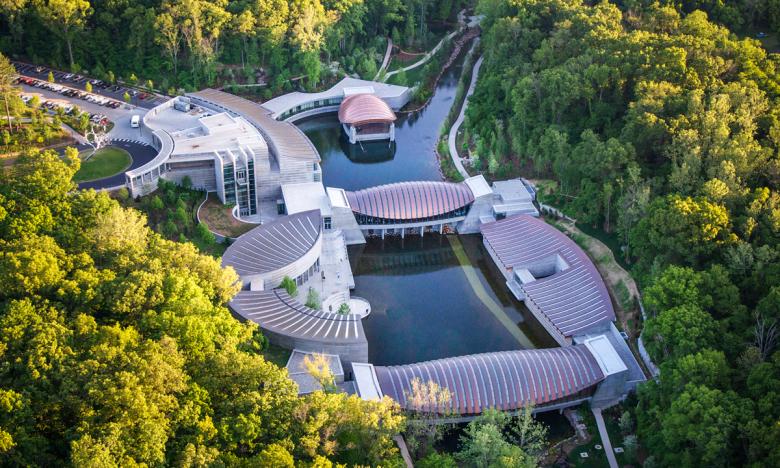 The region is also home to an impressive performing arts scene. The acclaimed Opera in the Ozarks in the arts hamlet of Eureka Springs features performances in the beauty of the Ozark Mountains.
Walton Arts Center in downtown Fayetteville brings Broadway shows, world-class dance, children and family programming, comedy and live music. Blocks away, TheatreSquared, the region's critically acclaimed professional theater, produces hundreds of performances a year.
In Rogers, the Walmart AMP is the state's largest outdoor music venue, with a recently completed renovation that added more open-air seating and flexible space for headlining concerts.
No visit to Northwest Arkansas is complete without experiencing the world-class Crystal Bridges Museum of American Art in Bentonville. With its rotating exhibitions, permanent collection of American art masterworks and 120-acre woodland site with miles of art and walking trails, this museum is truly one-of-a-kind. The Momentary, Crystal Bridges' satellite contemporary art space, hosts ongoing performance art, films, and culinary events.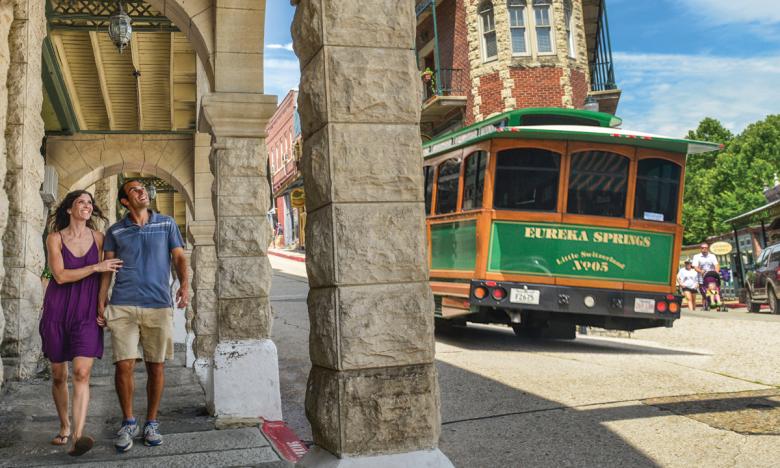 In addition to the museums, performance venues and arts collectives that are springing up in Northwest Arkansas, visitors can play, stay and eat their way through local culture at community celebrations, culinary festivals and outdoor music fests. The Bentonville Film Festival–co-founded by Academy Award-Winning Actor Geena Davis draws in people from around the world. The Fayetteville-based Bikes, Blues & BBQ charity motorcycle rally is the largest of its kind in the country. The Ozark Folk Festival in Eureka Springs has been celebrating regional and national talent for 75 years.
New to Bentonville is the FORMAT Festival. This incredible festival is set on 250 acres and highlights over 80 live music acts and visual and performing artists.
The Northwest Arkansas culinary scene is home to many restauranteurs committed to the farm-to-table movement and focusing on utilizing regional ingredients to highlight Arkansas cuisine. From food trucks to Brightwater culinary school, the next generation of chefs and foodies is evolving the culinary landscape and putting the region in the national spotlight. Mockingbird Kitchen in Fayetteville serves seasonal, modern Ozark cuisine made-from-scratch. At The Hive in Bentonville, James Beard-nominated chef Matt McClure works with local suppliers and artisanal purveyors to highlight traditional foods of Arkansas and the High South. And Yeyo's Hospitality Group–which was just named to the New York Times Best Restaurant List­–supplies their two food trucks and two restaurants with ingredients from their own Rios Family Farm and Hanna Ranch.
For those who love ale, lager and all things beer, NWA's ever-evolving craft brew industry produces millions of pints each year. The Fayetteville Ale Trail features 17 craft breweries and Black Apple Hard Cider–the state's only cidery. Outdoor districts in Springdale, Fayetteville and Rogers invite visitors to refresh and refuel al fresco while enjoying downtown.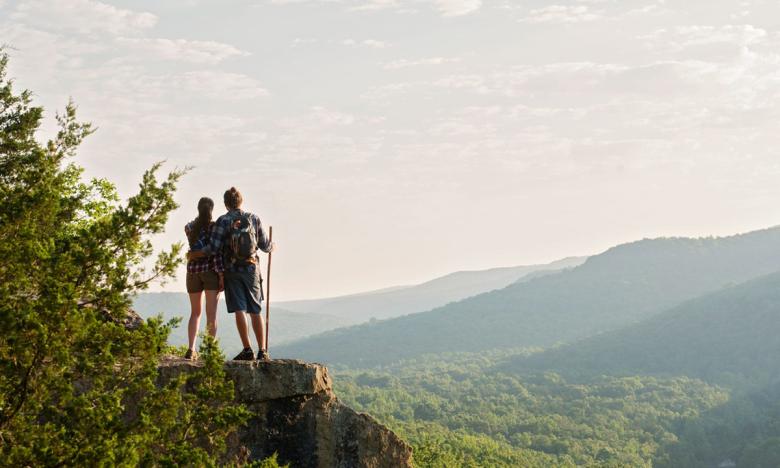 Northwest Arkansas holds no shortage of history and heritage. The only national military park in the state of Arkansas, Pea Ridge pays homage to a decisive Civil War battle. Prairie Grove Battlefield State Park hosts a Civil War Museum, walking and driving tours, as well as battlefield reenactments. The Shiloh Museum of Ozark History in Springdale teaches visitors important lessons about regional history. The Museum of Native American History in Bentonville walks visitors through five different periods of important Native American history with accompanying artifacts. War Eagle Mill in Rogers can entertain visitors for a full day with its 18-foot waterwheel, operating grist mill, general store, café, and steel bridge circa-1907.
Come discover the region and explore Bentonville, Bella Vista, Berryville, Eureka Springs, Fayetteville, Holiday Island, Huntsville, Rogers, Siloam Springs and Springdale. With 10 diverse cities, four counties and hundreds of attractions in between, the opportunities for fun and entertainment are endless.
Plan a visit to Northwest Arkansas today and see for yourself why more than four million people visit each year!