Exploring Arkansas by Backcountry Aviation with Arkansas Tourism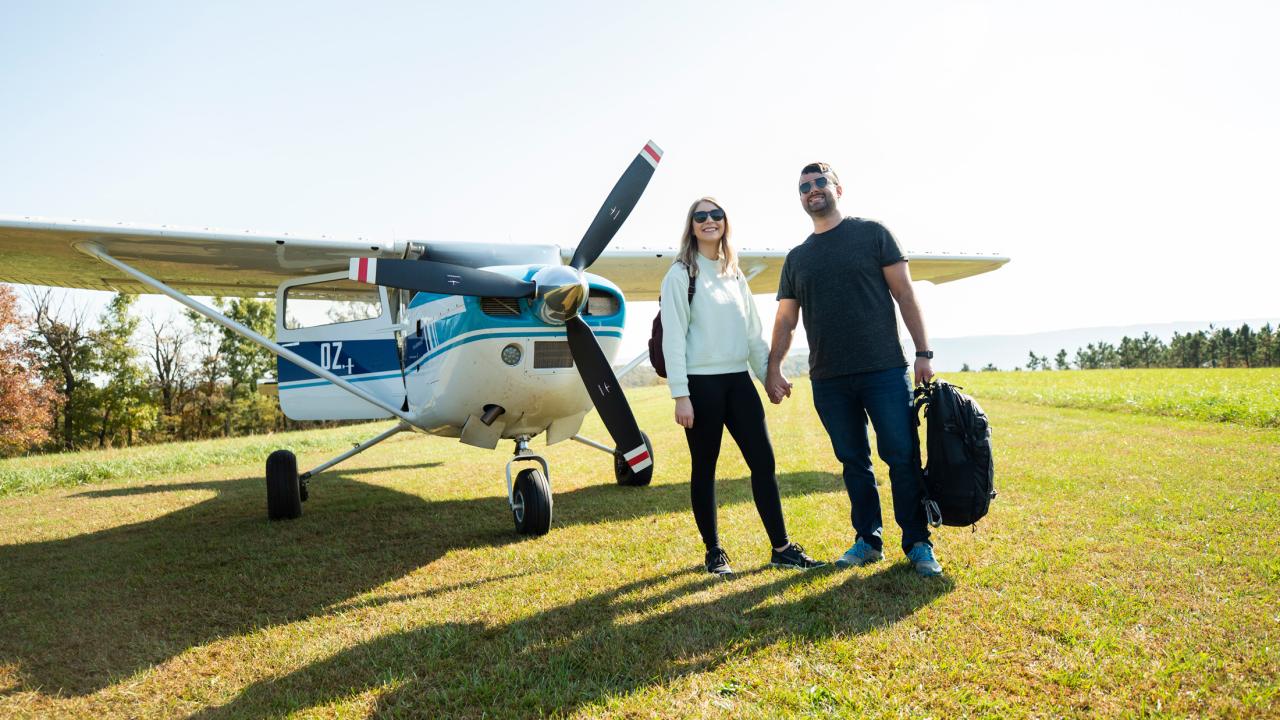 As I walk towards the two-seater plane, my heart begins to pound with excitement and slight nervousness. I have never been in a plane so small before. Will it be the same as riding a roller coaster for the first time? Steve, my pilot, senses my hesitation and waves me over with a big smile on his face, explaining the flying process as I take the seat in the back of the plane. I put on my headset, buckle in, and we head off down the grassy runway. As we take to the sky, I am surprised at how smooth the take-off is, and immediately my mind is at ease as I look out the window to see a marvelous view of the Ozark Mountains. Steve asks me if I'd like the window opened, and I eagerly say yes. A gush of cool wind bursts into the plane and blows my hair in every direction. I close my eyes for a moment feeling like a bird, at one with the sky. This is backcountry flying.
Like many others this year, Logan and I have cancelled a number of travel plans which left us feeling confined and ready to enjoy the outdoors. Fortunately for us, Northwest Arkansas is an outdoor enthusiasts dream destination and there is no better way to explore the great outdoors than with backcountry aviation!
While Northwest Arkansas is beautiful any time of year, having the chance to see it from a bird's-eye view during the autumn months is spectacular. Located in Bentonville, Thaden Field is a municipal airport where you can charter a flight that offers an intimate view of the beautiful Arkansas landscape. Thaden Field serves as the hub for Fly Oz, Oz1 Flying Club, and Summit Aviation, each serving a variety of aviation needs from their flight school to private charters and backcountry aviation.
While there are currently over 60 airstrips in Northwest Arkansas, four of the most popular spots to visit are easily accessible by backcountry flying with some flights as short as fifteen minutes. Backcountry aviation offers a recreational type of flying at lower altitudes that allows small planes to land on grass strips in locations where an array of outdoor recreation experiences await. Activities available to visitors include canoeing, mountain biking, floating, ziplining, fishing, hiking, ATV/UTV riding, and fabulous dining options. Flying to each of our destinations, we saw forests full of golden, orange, and red changing leaves, beautiful rocky bluffs, and winding blue rivers that decorate the Ozark Mountains.
At Gaston's White River Resort visitors experience some of Arkansas's best trout fishing which is available year-round due to consistent water temperatures. For those that are new to trout fishing, experienced guides are available to help you get started. After your fishing excursion be sure to stop by their award-winning restaurant for a mouthwatering lunch or dinner. They'll even cook your catch of the day!
Byrd's Adventure Center is a beautiful campground and premier ATV park located on the Mulberry River in Ozark and one of the top spots for canoeing, kayaking, and rafting. Other activities include RV sites, tent camping, hiking, and biking. Byrd's has also been a concert hotspot since the 1980's, boasting their own music festivals like Byrdfest and Rocktoberfest.
For an additional place to canoe and kayak, Trigger Gap Outfitter's is another stop to check out during a backcountry aviation tour. They offer five different float trips, ranging from a four hour beginner float to a more advanced three day float and camping trip. The Kings River is also known for its smallmouth bass fishing.
Perhaps one of the most well-known places to visit in Northwest Arkansas is Buffalo Outdoor Center (BOC) and is an absolute must visit on your backcountry aviation getaway. The BOC resort is found in Ponca, and offers a wide variety of activities and lodging. If you're looking to host a family event or are planning a romantic getaway, don't look any further than the luxurious cabins and lodges available to rent for a variety of group sizes.
Each morning we enjoyed our coffee while watching the sunrise over the misty white fog covered mountains. In the evenings we loved sitting by a cozy fire while enjoying the unobscured starlit sky. If camping is more your speed, the RV park has a breathtaking mountain top view and several of the tent sites are right along the beautiful Buffalo River.
The Buffalo Outdoor Center area has a number of popular hiking trails that showcase incredible waterfalls, stunning bluffs, and great views of the winding rivers. For those who love to mountain bike, Arkansas is known for its epic trails, some of which are located at the BOC. Whether you fly in with your own bike in tow or choose to rent an incredible full suspension bike upon arrival, the Buffalo Outdoor Center has a number of mountain biking trails for a variety of skill levels.

If cooling off is more your style, one of the most popular attractions during the summer months is hitting the Buffalo River. Whether you're a kayaker, canoer, or rafter, there are a number of areas to enjoy the crystal clear water. If you're looking for a bit more excitement and you want an up close experience with the foliage, check out the canopy zipline tour. This two-hour excursion will give you many thrills and sights as you soar through the beautiful Ozark Mountain forests.