Fall fun in Southwest Arkansas
The annual Hoo-Rah Festival is October 1 at the Sevier County Museum at 717 Maple Street in De Queen. This annual fall festival celebrates the heritage of the town and has arts, crafts, live music, demonstrations and reenactments, vendors and more. The theme this year is 'Celebrating Our Railroads.'  The museum has items relating to the county's history and on site there is a replica village with early town artifacts. A rain date for the event has been set for October 8. For more information, call 870-642-6642.
Timber has long played an important role in the Sheridan economy with towering pines found throughout the region. This heritage is honored the first weekend of October with the annual Timberfest celebration. A highlight of the event is the Arkansas State Lumberjack Competition, which has received national recognition. Timberfest this year takes place October 7- 8 at the Courthouse Square at 103 West Center Street. The festival will be the scene of the Arkansas State Lumberjack Championship, Arkansas State Championship BBQ Cook-Off, games, rides, a bow shoot, arts and crafts, a 5K race, car show, live entertainment, vendors and more. For more details, call 870-942-3021.
On October 8, you can check out the Prescott-Nevada County Fall Festival & Trade Days at the Nevada County Courthouse at 215 East 2nd Street in Prescott. This family day day features a 5K run, train rides, food, music, contests, and more. The town is also home to the Nevada County Depot and Museum, which is in a restored 1912 Missouri-Pacific Railroad Depot, and where you can find out more about the history of the area. More information can be found at 870-887-2101.
MusicFest El Dorado is October 14-15 in El Dorado. There will be more than 30 acts on four stages downtown. For more information on the musicians that will be there and the on-site activities, call  870-862-4747 or visit musicfesteldorado.com.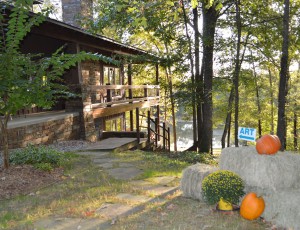 This year is also the 10th annual Round About Artist Studio Tour in Arkadelphia. It is October 21- 23 at various studios around town. You can visit the studios of Clark County area artists and see their working environment, demonstrations by them, and their art work. There will be artists showcasing painting, photography, wood carving, jewelry, and more.  Studios will be open Friday and Saturday from 9 a.m. to 5 p.m. and Sunday from 1 p.m. to 4 p.m. Free guidebooks with studio addresses, a map, and artist information can be picked up at the Arkadelphia Arts Center at 625 Main Street or at the Diamond Lakes Regional Visitor's Center at 124 Valley Road in Caddo Valley. For more details call 870-245-7982.
The Magnolia Downtown Merchant's Fall Festival is October 22 at the historic Courthouse Square in Magnolia. The town displays its heritage with colorful murals on buildings around the square. A variety of activities are on the agenda for the day including a chili cook-off and live music. For more information, call 870-234-4352.
Fall Fest is October 22 at the Arkansas Museum of Natural Resources Museum in Smackover. This is being billed as an old time fall carnival with games, crafts, and storytelling taking place inside the museum.  The museum preserves and exhibits examples of Arkansas' natural resources and tells the story of the 1920s oil boom in South Arkansas. For more details call 870-725-2877 or visit their website here. 
In Mena, you can check out the Ouachita Fall Foliage Festival in Janssen Park on October 22. There will be a pumpkin chunkin' event and BBQ cook-off along with vendors and other fall festival activities. The community park this event is held at has an 1851 log cabin rumored to have been used as a hideout by the notorious Jesse James. For more details, call 479-394-2912.