Famous Arkansan: Scott Joplin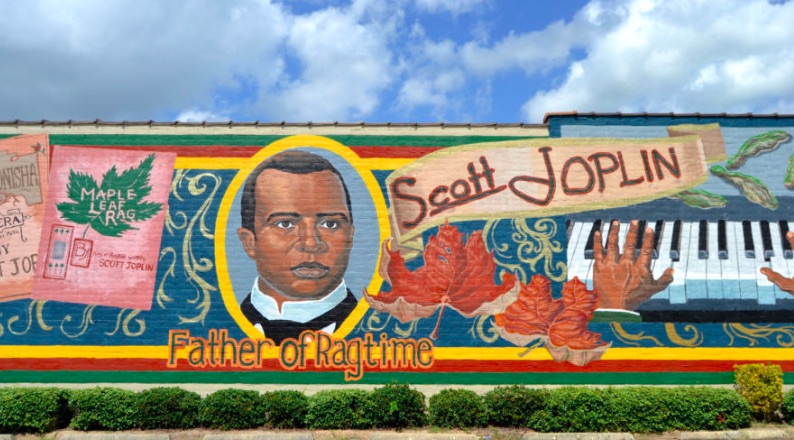 Several well-known people have roots in Arkansas. Today, Meet: Scott Joplin.
Before there was Jazz, there was Ragtime. Scott Joplin (1868-1917) was a composer from Texarkana noted for his ragtime music. Known as the "King of Ragtime," he wrote The Entertainer in 1902 which was later revived and used in the score of the movie The Sting in 1973. Joplin's musical talent was noticed in Texarkana by local, German-born music teacher Julius Weiss. She took him under her wing and taught him European art forms, including opera. Her influence may be the foundation of Joplin's desire for recognition as a classical composer.
After several years as a pianist playing in saloons throughout the Midwest, Joplin settled in St. Louis around 1890. There he studied and paved the way in a music genre now known as ragtime, a blend of European classical styles combined with African American harmony. After this, he worked at the Maple Leaf Club in Sedalia, MO which provided the title for his best known composition, The Maple Leaf Rag. This was followed a few years later by The Entertainer,
another well known Joplin tune. Over the next few years, Joplin added to his body of work, which eventually totaled around sixty compositions. In 1911, Joplin moved to New York City, where he devoted his focus to his opera, Treemonisha, the first grand opera composed by an African American.
After his death Joplin's music harnessed more recognition. His work includes a ballet and two operas, The School of Ragtime (1908), and many works for piano ( rags, marches, and waltzes) such as  Maple Leaf, The Entertainer, March Majestic and Harmony Club. His collected works were published by the New York Public Library in 1971 and his music was featured in the 1973 movie The Sting, which won an Academy Award for its film score. In 1976 Joplin was posthumously awarded a Pulitzer Prize for Treemonisha.