Fantastic Zipline Adventures in Southwest Arkansas!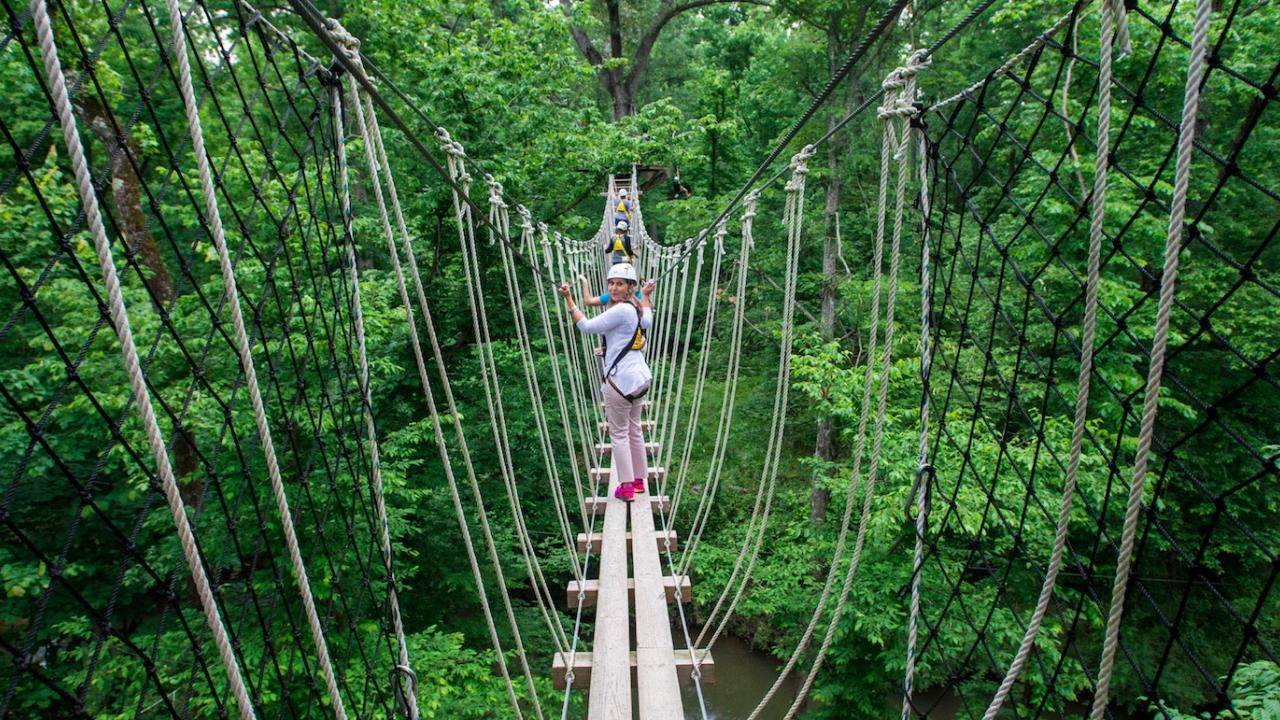 For those unfamiliar with ziplining, the activity involves soaring through the air by a cable suspended above an incline, to which a pulley and harness are attached for a rider. There are a few spots in and around Hot Springs where you can get a zip line adventure in. 

Adventureworks Hot Springs is an aerial zipline attraction at Catherine's Landing in Hot Springs. There are 10 lines to take on at the park. The lines get progressively faster as you move up the course. The course is built in a horseshoe pattern so participants end close to where they start their elevated journey. The lines run up to 800 feet in length – and the full sequence is nearly a mile long. There is one line that goes across a creek to an 80-foot observation tower built around a giant oak tree. For this section, participants safety tether and walk across the suspended bridge to the observation platform. Then they latch on and dash off. 
An aerial adventure course has also been added to the park too. For this portion, you climb to the top of a tower around 45 feet up in the air and take on a course filled with cargo nets, climbing walls, swinging bridges and more. There are different types of tours you can take at the park including the Canopy Zip Tour, which includes just the ziplines; the Aerial Adventure, which includes taking on the adventure challenge course; or the Zip Tour and Adventure Course Combo, which entails taking on both.
Another option is Ron Coleman Mining, which offers rock and crystal digging for all ages and skill levels. This spot is located at 155 Crystal Ridge Lane in Jessieville and is open year round. Jessieville is around 20 miles from Hot Springs. Along with crystals, there is also a zipline. The quarter-mile long zipline goes across the mine for an aerial view of the property you are digging at.
The Blue-Zip Line & Farm in Mena is located on an Arkansas Century Farm on the Irons Fork River. Mena is about 75 miles from Hot Springs. This spot has an interesting history as it was first homesteaded in 1897 by George and Frannie Wyatt and is currently a working cattle farm owned by their great, great-granddaughter. This is the area's only zip line attraction and the property also spreads awareness about autism. Check out the Adventure Sports page on Arkansas.com for more adventurous ideas throughout the state!