Father's Day Fishing Derby
Father's Day is this Sunday. Here's a fun way to celebrate with dad – the Father's Day Fishing Derby at War Eagle Mill near Rogers.
At the Mill, dads and kids will fish War Eagle Creek hoping to win a prize for the biggest, smallest or ugliest fish. The derby is from 8:30 a.m. to 4 p.m. on Sunday, June 15. Bring your own fishing poles and bait. Visit the sign up table at the Mill and fill out a form to participate. It's free! Then, start fishing. Use fishing poles only to catch fish. Each contestant can weigh five fish. The Biggest Fish award is a Father's Day Gift Box. Smallest Fish receives Ensley Fish Fry Mix. The Ugliest Fish gets a War Eagle Mill Souvenir. Prizes will be announced at 4:30 p.m. If the winner is not on site, the Mill will mail their prize to them.
Adults and kids 16 years and older have to have a fishing license. Kids 15 and younger do not need a license. For more information, call the Mill at 866-492-7324.
You can also add to the day by visiting nearby Hobbs State Park-Conservation Area.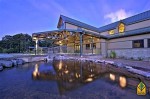 Tight lines everybody and Happy Father's Day!