Fayetteville Has Tasty New Company To Be Proud Of – Hello Cocoa
A Fayetteville artisan chocolate maker, Hello Cocoa, just opened its doors in August. Yet, it has already been recognized for its unique, vibrant, sophisticated identity by Dieline, a website dedicated to showcasing "the world's best package design."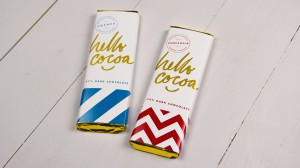 This new small batch chocolate maker in Northwest Arkansas uses colorful line and chevron patterns paired with a classic gold font to make Hello Cocoa bars stand out.
"We started Hello Cocoa because we wanted to make melt-in-your-mouth chocolate and to empower communities across the world that have a great product to offer. Since we all love to travel and meet new people, we wanted our brand to share a sense of adventure," said Lauren Blanco, co-founder of Hello Cocoa in a recent press release. "We never expected our new chocolate factory in Fayetteville to receive national recognition like this, but people are connecting with our brand, which has been such a wonderful, humbling experience."
Founded with the goal of creating high-quality bean-to-bar chocolate, Hello Cocoa is dedicated to making some of the finest, tastiest chocolate on the market—not only to put a smile on people's faces but also to inspire a sense of adventure, according to the press release. The wrapping makes that message clear, presenting the notion that through a single chocolate bar consumers can let their taste buds carry them to each cocoa's birthplace—Venezuela or Uganda—on an epic, sweet adventure that won't soon be forgotten.
Currently, Hello Cocoa crafts all of its single origin chocolate bars with ethically and sustainably traded beans, as well as some organic beans from a distributor in the U.S. As the company grows, the founders plan to begin directly sourcing more and more beans from small farmers in unique locations around the world, according to the press release.
Made with only cacao, cocoa butter and sugar, Hello Cocoa bars are available in two signature varieties: 57% Dark Ugandan Forasetro Cocoa and 74% Dark Venezuelan Criollo Cocoa. For a limited time, a fall bar is available with toasted pumpkin seeds, dried cherries and pumpkin spice, and a Winter Wonderland bar will be released at the end of November just in time for the holiday season.
Fayetteville residents can see Hello Cocoa featured in the Lights of Ozarks Parade at 6 p.m. on Friday, Nov. 21, on the downtown square. Also, chocolate bars can be purchased at local retailers such as: The Handmade Market, Tontitown Winery, Sassafras Springs Vineyard, The Wine Cellar, Arsaga's, Onyx Coffee Lab, RiffRaff and Golden Kolache Bakery.
For more information, visit hello-cocoa.com, or follow the company on Facebook, Twitter and Instagram.