Fayetteville Jazz Collective Christmas Concert is Saturday
Not only this concert, but also the inspiring place it is held, are sure to get you in the holiday spirit this weekend. Get tickets now to the Fayetteville Jazz Collective Christmas Concert set for 7 p.m. on Saturday, Dec. 20 in Clapp Auditorium at Mount Sequoyah.
The Fayetteville Jazz Collective was founded in 2009 as a professional jazz orchestra comprised entirely of musicians active in and around the Northwest Arkansas area. The Fayetteville Jazz Collective seeks to preserve and enhance the big band tradition through education of young audiences, aspiring musicians, and the general public.
Saturday's concert will include the Duke Ellington/Billy Strayhorn arrangement of Tchaikovsky's 'Nutcracker Suite' as well as several original arrangements of traditional Christmas songs by local composer and band member Rick Salonen. Vocalist Sara Broome will join in on several numbers. The Jazz Collective will also be selling copies of its debut album.
Advanced tickets are $8 per person & can be purchased ONLINE or by phone at 479.443.4531. Tickets can also be purchased the day of for $10 at the door.
If you're not familiar with Mount Sequoyah, know that it is a treasured hideaway in Fayetteville. For 90 years, people have gathered on 32 private acres atop this mountain for meetings, training, conferences and retreats. Mount Sequoyah Retreat and Conference Center welcomes individuals and families, as well as faith groups, non-profit groups, and business leaders looking to bring focus and direction for their missions and purposes. The campus offers a place of solitude and numerous meeting and lodging locations while convenient to cultural venues, world class art, sporting events, shopping and eateries.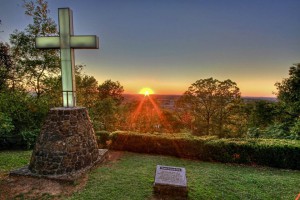 Amenities include not only meeting and lodging space, but also a playground, sand volleyball court, basketball court, tennis court and pool. Numerous camps and programs are offered here for all ages throughout the year. The trailhead to the Mount Sequoyah Woods Trail (a city trail) can be found up here as well.