Fayetteville Modern Home Tour is Saturday
Who doesn't like getting a peek at other people's homes, especially unique homes like those on the 2013 Fayetteville Modern Home Tour set for 11 a.m. to 5 p.m., Saturday, Oct. 26?!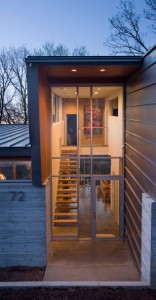 During the tour, about five or six private, modern homes around Fayetteville and northwest Arkansas will open to the public explore modern architecture and décor. Here's a rundown of the homes on the tour so far, according to a press release:
Advance tickets are on sale through Oct. 25 for $30 each. Tickets purchased after that time must be purchased at any of the tour homes beginning at 11 a.m. on Oct. 26 for $40 each. Children 12 and under are free. Click here for more ticket information.