Felsenthal National Wildlife Refuge
The Felsenthal National Wildlife Refuge west of Crossett is one of 561 National Wildlife Refuges (NWR) spread across the U.S. Though there are many, refuges have a reputation as America's best kept secret.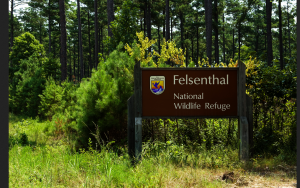 ​
A report came out today from the U.S. Fish & Wildlife Service with the information that visitors to National Wildlife Refuges generate more than $2 billion a year in economic activity. According to the report, outdoor activities like birding and hiking account for around 75 percent of this figure, while fishing and hunting account for about 25 percent.
Refuges belong to the people and are entrusted to those who work for the U.S. Fish & Wildlife Service to manage for the benefit of wildlife. Felsenthal NWR is located around five miles west of Crossett. Established in 1975, it is crisscrossed by a system of lakes, rivers, creeks, bayous and sloughs. These water resources are dominated by the Ouachita and Saline Rivers and the Felsenthal Pool.
Primarily the refuge was established for wintering waterfowl habitat, endangered species, and outdoor recreation. But wildlife is key. Fishing is available year round and sport fishing is a top activity. Hunting is also a draw and is managed via quota hunts of white-tailed deer and turkey. Kayaking and hiking is also available along with birding. Felsenthal NWR lies within the Mississippi Flyway so the potential for birding is big. Hundreds of species of birds are known to nest in the area. One famous one is the endangered Red-cockaded woodpecker and the refuge has the highest density of this species in the state. If you want to visit a National Wildlife Refuge sometime, there are 10 in the state.