First Ever El Dorado Film Festival
A new film festival is making its debut in Arkansas. Around 30 films will be shown at the first ever El Dorado Film Festival September 18-20 in El Dorado. The festival will screen a mix of both feature films and short films from multiple countries. Workshops and panel discussions are also on the agenda.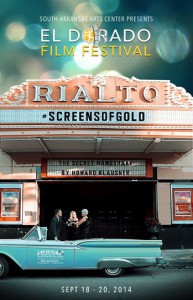 ​
Howard Klausner, who wrote the screenplay for Clint Eastwood's Space Cowboys will be at the festival on Thursday September 18 to give a talk about the film industry and to show his new short film  The Secret Handshake. He will also lead a workshop on the film business earlier that day and will take part in a panel discussion on Saturday.
Among the short films shown will be One Armed Man written by Horton Foote. The late Philip Seymour Hoffman served as executive producer on this film.  Love at First Sight will be making its Arkansas debut at the festival.
The films will be shown at the Callaway Theatre at 110 East 5th Street at the South Arkansas Arts Center (SAAC).
Of note, from 9-11 every day of the festival guided trolley rides, with tour guides Richard Mason and Richard Wharton, will also be available for those wanting to learn a bit of history about El Dorado.  The 25 minute tours will start at the SAAC.
Tickets for the festival ( a $30 all access pass provides access to all the films, workshops and parties at the festival) can be purchased in person at the art center box office or online here. For more details and a complete list of the films featured, click here or visit the festival facebook page at facebook.com/eldofilmfest.Below are trailers for Love at First Sight and One Armed Man